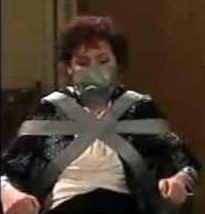 That's right – don't try this at home. I'm a professional…professional lunatic, perhaps. Although my good friend and martial artist Dennis Lawson once told me that because I'm a published novelist, that makes me eccentric. Otherwise I'd be certifiable.
It started in New York City while I was working on my first novel, Lust for Danger, with a screenplay writer (Mykel). She'd read the draft my agent gave her and loved it. We were in her office, and she got to a scene in which Special Agent Night was nearly discovered snooping for evidence during an illegal search. There was only one place for my agent to go – under the suspect's desk. Mykel said she wanted more depth – more suspense – in that scene. I was stumped.
"Have you ever tried hiding under a desk?" Mykel asked me.
In fact, I hadn't (that I could remember). What could it hurt? I figured out how much time it would take for the suspect to do what he had to do in the office, set a timer, and crawled under the desk. Wow. It's amazing how perspective changes…how suddenly the space closes in around you. Mykel was quite pleased with my re-written scene.
You realize, of course, she created a monster.
Next thing I knew, I was filling my kitchen sink with water, setting the timer on my microwave oven and submerging my head for as long as possible to see what it would be like for a character who'd been tied up and thrown into a river. I never knew there were so many muscles in the human face. After about a minute-thirty, they all hurt like hell.
Then, there was the time my best friend tied my hands behind my back, roped that up around my throat so if I tried to get free it would strangle me, and then fastened a plastic bag over my head. My theory had been that my agent could rip the bag open with her teeth. Wrong. That was probably the most terrifying stupid thing I'd ever voluntarily done to myself. I had no idea I'd run out of oxygen so quickly. I'm truly grateful I was with someone I could trust.
I've dabbled in the martial arts – I mean, I had to – I write about a deadly Special Agent. But dabbling isn't going to give me the seasoned knowledge and instincts I need in order to know how my character's going to react in a certain situation. I'm quite fortunate to know a number of top-notch martial artists who don't insist I take lessons to find my answers. During my decades of writing, I've been flipped, kicked, pinched, punched, subdued and a number of other things that don't have their own verbs. They all hurt, trust me. (Of course, they don't hurt anywhere nearly as much if my advisors really wanted to do me some damage. These folks are the epitome of control.)
And the list goes on.
Does all this make me a better writer? I dunno. I think I've gained knowledge that's given me the confidence to write more vivid, suspenseful scenes. A reader once told me that the drowning scene in Lust for Danger scared the cr*p out of her. I call that a success.
Does this mean you should go out and do stupid things to yourself? That's up to you. I don't think everyone has to be as "enthusiastic" as I am. But if you are, and if you do, no need to mention my name to the cops. And make sure you get it on video.
A special thanks goes out to Dennis Lawson and Professor Skip Hancock for generously sharing their time and knowledge with me.
*     *     *     *     *
K.S. Brooks is an award-winning novelist and photographer, author of nine books, and Co-Administrator of Indies Unlimited. For more information, please see the IU Bio page and her web site: http://www.ksbrooks.com/