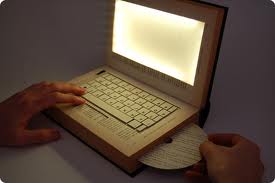 My daughter loves to read books together. And she loves pretending to read. And she likes to write. Keep in mind she's three, so we're not talking Great American Novel yet. She makes a mean 'F'. It warms the cold, bitter cockles of my heart. She likes that there are pictures of me in the back of some books, and she likes the songs I write her.
The reason I am thinking about my daughter is because I realized the other day that at some point in the future she will want to read what I have written. It is going to be a very eye-opening day. To say the least.
I was lucky…my reading was never really censored. I think my dad gave me a well-thumbed copy of A Clockwork Orange when I was eleven or so. That was a pretty awesome thing for my dad to do in hindsight. I read it. I loved it. I was disturbed and intrigued. But he didn't write the book.
There's not much I plan on being dishonest about when it comes to my kids. That's bad territory right there – lying is never a good strategy with kids (or anyone else). But we are going to have a very interesting conversation after she reads my fiction.
When I was a kid, I got to tell everyone that my dad flew helicopters. Pretty cool. I've got to train my girl to say post-modern, existential, character studies or something equally pretentious. That much is clear.
I can picture it now. What does your dad do for a living? Oh, he writes fiction about depression, drug addicts, and emotionally disturbed people. Ha! Man, parent teacher conferences are going to be fun. Maybe I can sell some books there.
There are a lot of ironies in being a writer and a parent. For instance, Curious George is one of the weirdest books ever. I don't know why that one has stood the test of time. And my daughter likes some books that just plain suck. Why mince words? But, I can't say, hell no, we're not reading Fred and Ted again, it's stupid!
Being a parent has made me love Roald Dahl more than ever – and I loved him plenty before. Trust me.
My daughter is hip to the Kindle, too. Although she thinks it is a touch screen. Damn iPhones.
Mostly, what got me thinking about all this, aside from the need to write a blog post, was how amazing it will be for my girls growing up. What a great time to be a reader! Man, I would have given anything for a Kindle when I was a kid. I actually kind of invented it. I was convinced when I was a kid that everyone would have computer comic books where you put a disk in, each disk a new story. OK, I was off by a little. Point being, as writers, we should take heart. Tell me kids only want to play video games all you want. My girl likes books. The other one is inside a uterus, but I have faith.
*     *     *     *     *
JD Mader is a Contributing Author for Indies Unlimited and author of the novels 'Joe Cafe' and 'The Biker' – co-author of the mighty 'Bad Book' (available here). For more information, please see the IU Bio page and his blog: www.jdmader.com.