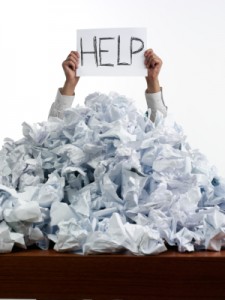 KS Brooks was kind enough to give you the details of her pre- and post-release rundown for Triple Dog Dare (actually, it was a mandatory requirement of her probation, but we won't go into that). Since I'm going through something similar, without the probation (so far) or a collaboration partner, I thought I'd share my perspective on the pre-release mayhem that's happening in my house as I prepare to publish Sliding Past Vertical, my fourth novel. Here's how it has gone down so far. [Note: Your actual mileage may vary. I certainly hope so.]
1. Write a story. Years ago, while packing up to move, I found an apology note that I never had the guts to send. I tucked it aside, thinking that one day, it might make a good novel. (See, if you are a writer, nothing is wasted, not even your own cowardice.) With input and encouragement from my writing group, I drafted the story, revised it, and rewrote it about a dozen times. A bunch of literary agents had their way with it, doubting the "commercial value and timing" of the story. I thought it had something to say, so I decided to self-publish. I revised it a few more times, during which I debated the commercial value and timing of giving up coffee.
2. Hire a cover designer. With a concept in mind that symbolized the major metaphor, I asked Guy Down the Hall to create a cover. He shooed me away until he had his first round of designs. One had hearts over the darned thing. "Because it's a romance, get it?" he said. (Note to self: fix hole in wall, buy more tissues, and schedule marriage counseling.)
3. Unleash the beta readers! I sent the manuscript to my fabulous beta readers and incorporated most of their suggestions. Everyone wanted to slap my protagonist. Which either meant I was on the right track, or I should consider changing careers. Brain surgery might be good. Maybe I could take a few classes online.
4. Get it professionally edited. Yes, even editors hire editors for their novels, because it can be difficult to have enough perspective to edit your own work when you've read it thirty-seven times. Off the manuscript went to an editor who lives in a different country. For this, I endured a lecture from Guy Down the Hall about outsourcing jobs and the downfall of American Industry. I told him to stop watching 24-hour news channels and fix the hole in the wall.
5. Line up reader reviewers. I ripped off borrowed KS Brooks' and Stephen Hise's idea to ask for volunteers to read the manuscript in advance and post a review on release day. Thirteen responded. I did a Snoopy-dance.
6. Give them something to read. I downloaded Calibre and, using Rich Meyer's tutorial on how to make a mobi file, attempted to make e-book files for the readers. Finally I had to use Rich Meyer instead. He asked for several things in return for his help, something about a famous comic book artist, duct tape, and chloroform. But I am not at liberty to divulge the details.
7. Maintain sanity when it all goes wrong. I had a panic attack at ten o'clock on a Sunday night because I wondered if my readers understood that an ARC is not the final, edited version of the manuscript. And among my awesome group of readers—who kindly volunteered their time—were at least three editors. I had another panic attack involving a possible intervention where these editors would hold me down and take away my red pen. I immediately began to proofread until my eyes were going in different directions (to at least catch the major errors), created a new mobi file (having figured out what I was doing wrong before), and posted to readers. At this point I began to hallucinate about spinning commas and when to use "who" and "whom." Then I speculated on how many life credits I might be awarded when I apply to study brain surgery.
8. Research book bloggers. Using various resources from my fellow IU minions (have I told you guys lately that you're awesome?) I created the Mother of all Spreadsheets. I discovered that most of my intended bloggers were either off on maternity leave, no longer accepted manuscripts from self-published authors, or still had my last book in their queues. Also, most preferred I wait to contact them until I have an actual, live sales link. Started drinking coffee again.
9. Polish manuscript. I went through the story for the tenth time since deciding to self-publish and found more things to fix. Then I created a new mobi, sent it to my Kindle, and read it aloud because that is one of the best ways to find errors. In the process of finding more things to fix, I lost my voice. My lovely ARC readers began to send messages with even more things to fix. I considered adult beverages. Small children and animals began to step away from me as I walked by.
10. Polish again. As I read my almost-final manuscript, a nice, tranquil feeling fell over me. I was beyond manuscript errors like making sure no one was walking around in the snow in August or was being called by the wrong name. I focused on the little things like checking for missing words and wrong-facing punctuation. Next stop, formatting. I can't wait. Neither can my husband. He's tired of fixing the holes in the walls.