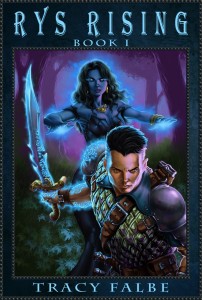 Rys Rising: Book I
by Tracy Falbe
Genre: Epic Fantasy
Word count: 178,300
A young warrior ruined and near death is saved by Onja a mysterious rys female. Forsaking all that he was, he will take the name Amar and serve his new magical mistress. A lord among outlaws he will become, feared by kings and called the dro-shalum or curse demon by the common folk.
Onja nurtures his growing power among the tribal kingdoms so she can strike against the tabre of Nufal. They are the ancient race of magic users that created the rys with their experimental spells, but they revile their creations. The tabre keep the rys hidden away while they rule over their beautiful realm. The key to Onja's victory will be if she can win over the rys prodigy Dacian who is loyal to the ruling tabre order. Will he endure more dark abuses for the sake of peace or reach out to Onja and her growing army of allies?
Packed with primitive energy, the intertwining stories of this fantasy world will indulge your cravings for intrigue, bravery, desire, and freedom.
This book is available from Amazon, Smashwords, and Barnes & Noble. Continue reading "Book Brief: Rys Rising"