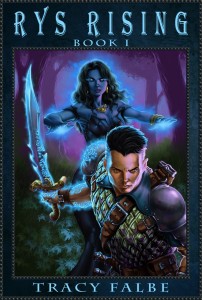 Rys Rising: Book I
by Tracy Falbe
Genre: Epic Fantasy
Word count: 178,300
A young warrior ruined and near death is saved by Onja a mysterious rys female. Forsaking all that he was, he will take the name Amar and serve his new magical mistress. A lord among outlaws he will become, feared by kings and called the dro-shalum or curse demon by the common folk.
Onja nurtures his growing power among the tribal kingdoms so she can strike against the tabre of Nufal. They are the ancient race of magic users that created the rys with their experimental spells, but they revile their creations. The tabre keep the rys hidden away while they rule over their beautiful realm. The key to Onja's victory will be if she can win over the rys prodigy Dacian who is loyal to the ruling tabre order. Will he endure more dark abuses for the sake of peace or reach out to Onja and her growing army of allies?
Packed with primitive energy, the intertwining stories of this fantasy world will indulge your cravings for intrigue, bravery, desire, and freedom.
This book is available from Amazon, Smashwords, and Barnes & Noble.
Tracy, how did you come up with the title for your book? Does it have any special meaning?
Rys Rising: Book I begins the prequel series to The Rys Chronicles. It tells the story of how the rys rose from an oppressed minority reviled by their creators to become the supreme rulers of a new age.
Who was your favorite character and why?
My favorite character was Amar. I loved writing him because he was successful and could get away with anything. I liked thinking of him as kicking ass and NOT taking names. He has a deep emotional complexity that he tries to keep at arm's length by risking his life.
Does your book have any underlying theme, message, or moral? 
When talent is rejected and not given a place in society the oppressed will eventually rebel. Despite being justified this rebellion is an ugly thing and will not necessarily lead to better days because it was born of cruelty, and cruelty is a soil a that can bear bitter fruit.
What would/could a reader or reviewer say about this book that shows they "get" you as an author?
A reader who gets me will notice that I use multiple characters to show all sides of a story. A close reading will reveal my thoughts on how people are manipulated by higher powers without any regard to their well being.
Give us an excerpted quote from your favorite review of this book: 
This book is an absolute favorite. The action and suspense is overwhelming…If you love fantasy and lust and bloody gory goodness you will love this book.
Where can people learn more about your writing? 
The About the Author page at Brave Luck Books.