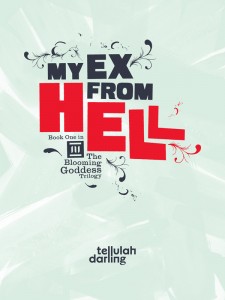 Today we have a sneak peek from the young adult romantic comedy by Tellulah Darling: My Ex from Hell.
Prior to the Halloween dance, sixteen-year-old Sophie Bloom figures her worst problems involve adolescent theatrics, bitchy teen yoga girls, and being on probation at her boarding school for mouthy behaviour. Then she meets bad boy Kai and gets the kiss that rocks her world.
Literally.
This breath stealing lip lock reawakens Sophie's true identity: Persephone, Goddess of Spring. She's key to saving humanity in the war between the Underworld and Olympus, target numero uno of Hades and Zeus, and totally screwed.
My Ex From Hell is a YA romantic comedy/Greek mythology smackdown. Sassy girl. Swoony god. What could go wrong?
My Ex from Hell is available from Amazon.com and Amazon UK.
Here is an excerpt from My Ex from Hell…