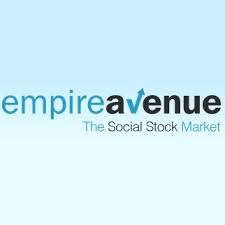 Social media platforms have become synonymous with marketing. As Indie publishers and writers, it's a love-hate relationship. If you are not out there, then you feel like you're missing the boat. If you are out there too much, then you are spamming all the same people over and over.
It's rare when you run across a platform that isn't saturated with groups of the same people. One such platform puts a different twist on social media relationships and networking. Empire Avenue's mission is to build a global marketplace where any individual can realize the value of their reputation and networks. With Empire Avenue, you link your social media accounts and you earn virtual dollars based on your interactions and social media engagement. Empire Avenue takes social media, gamification, and networking to a whole new level.
What can you do with your virtual dollars? You can exchange them to access people, play the Social Stock Market and more. Now why would we be interested in this? Because as you earn virtual dollars, you can pay others to "Like" your FB page, follow your blog, or share a post. At first, it might feel a little dirty playing this game, but it's just virtual dollars and you can expand your network outside of its typical following.
In addition, your "net worth" grows with social engagement, and others can buy shares in YOU. The site operates like a stock exchange and as you progress, your stock value per share increases or decreases depending on many factors.
It's too early to determine if there is any long term benefit to Empire Avenue. Like anything else, it's easy to get lost in it for hours. They've been around since 2010 but really started to make waves this year. Like most platforms, they have a free option and a fee-based "premium" option that awards more virtual dollars daily and a host of analytics.
If you're looking for something with a different twist, that rewards you for the time you spend on social media, then Empire Avenue may be for you. Otherwise, you might find yourself having a lot of fun wasting time on another networking platform.