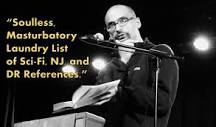 It is late in the evening and you are about to make a mistake that will cause you to toss and turn all night. Sleep will elude you as you see the words dancing in front of your eyes, taunting you with their black and white judgment. There, defiling your Amazon author page, is a one-star review. Blood pounds in your veins as you read. You are naked, revealed to the world as a pretender, a poser, certainly not a writer. Your head drops to your desk, and you slip slowly into madness.
If this hasn't happened to you yet, then you either haven't been writing long enough or you lead a charmed existence. The one-star review is a rite of passage. No matter how great the writer, no matter how brilliant the masterpiece, someone will feel that the book was disappointing. Or they will hate it and advise others to skip it.
After much thought I decided to share with you my philosophical and practical approach to thriving after a poor review, or more accurately, one that eviscerates your book.
1. Check the profile of the reviewer. Look at the genres they read, and scan some of their reviews. If they have reviewed hundreds of books in your genre, compare your review to others they have written. Are their reviews typically critical? Are they an expert in the genre? Are they an avid reader of the niche you wish to reach, or did they pick up your book thinking it was a different genre?
2. Separate how much you care about your book from the critical comments. Put your emotion to the side as you sift through the critique. Is any of it true? It may be difficult to acknowledge that the review has merit in one or two aspects. By accepting that you are not perfect, and can learn and improve, you will become a better writer.
3. Be thankful. There are thousands of books that this person could choose to read. They chose your book. And, because they read it they are entitled to their opinion.
4. Do not argue with a reviewer. If the review was abusive, flag it and contact Amazon. Focus on getting more reviews through honest means that will dilute the sting of the one-star. Incidentally, I believe that a mix of ratings confirms to Amazon that you are not using sock puppet reviewers. Furthermore, readers who enjoyed your book may get protective of you when they feel you have been treated unfairly, and they will give you a glowing review to minimize the poor one.
5. There is a time to contact a reviewer, and that would be if they say the book had a problem during the download and the formatting is a mess. I was extremely appreciative of a reviewer pointing this out to me. I had the file reloaded to my Kindle and it appears to have been mostly Amazon's problem. I would never have known about the issue if this nice woman hadn't informed me.
6. Move on to your next project. Congratulate yourself that you are able to provide entertainment for others. You are a special breed.
The above suggestions are just that — suggestions. No review, no matter how derogatory, is going to make me stop writing. This logical approach is the only way I have figured out to properly absorb the salient points of a critique and make them work for me. That doesn't mean I am going to change the way I write. It does mean that I will pay attention to areas that readers have especially liked or been confused by.
One of the most famous bad reviews was written about John Keats' masterpiece Endymion. You can read a wonderful critique of the scathing review here. As this article points out, the review was condescending and had a decidedly personal feel. The critical mistake on the part of the reviewer was to fail to:
1. Say what the book was about.
2. Discuss how the author went about saying what the book was about.
3. Finally, communicate what the reviewer felt about what the author was saying in the      book.
One might say that in attempting to combine vampires, tango, alternative lifestyles, fashion, fine food and interior design in a novella I was cruisin' for a bruisin'. Perhaps I was naive in thinking that a fun, 124 page romp priced at $.99 would entertain and amuse. I did not expect what I received. What I have learned is this – when one attempts an artistic experiment some people will get it. The opinions will be on opposite ends of the spectrum, and I will have to take my lumps. C'est la vie.