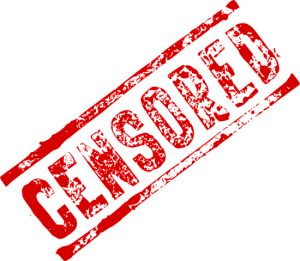 A company in Utah is developing an app that will selectively edit what the reader of an ebook sees, removing from their sight words or descriptions of actions deemed unacceptable.
I read the article and started ranting at the walls. As usual, the walls ignored me, so I decided if I self-censored the non-Indies Unlimited allowed words, that maybe I could turn my rant into a post.
What most concerns me about this idea has little to do with books or authors and everything to do with the reader. In my mind we've got three situations, depending on the reader's age. Adult readers, who are offended by certain words or acts in fiction, young readers, who a responsible parent doesn't want exposed to thoughts and ideas they aren't mature enough for yet, and older teens, who are expected to be developing the responsibility and maturity of an adult.
If an adult is going to be bothered by one or two bad words, if it makes him or her uncomfortable to read a couple sex scenes and skimming past them is that difficult, then I guess that's fine. If paying for this service is worth it to them, they're adults and can make that decision.
For the younger child, I'd question the need. Books aimed at this age group shouldn't have objectionable material. Books that do are aimed at an older audience. In that situation I'd expect a parent would be concerned with more than bad words and sex. Aren't there non-objectionable thoughts and themes that wouldn't be appropriate for children who haven't reached a certain age and maturity level? I'd expect a responsible parent with concerns about a book their child wanted to read would want to do more to vet their child's books than this tool would provide.
This leaves us with the teen or young adult reader which is where I see the big problem. At best, a parent seeing this as a good idea is being naïve. At worst, they're doing an extreme disservice to their young adult. I grew up in the environment that spawns ideas such as these and I'm sure my parents would have seen this filter as a great idea. This type of parent seems to operate on one of two assumptions. The first is that their teen isn't going to realize bad words exist, nor know anything about sex (except whatever sanitized version they've heard from the parents) if only they can prevent their kid from being exposed to such things in books and movies. That's naive. I don't think deep down those parents actually believe this, although they try to convince themselves it is true. The other possible reasoning is that by allowing the reading of books with certain content they are encouraging their child to engage in the behavior depicted in the book or is even implicitly approving of them doing so. If your teen child doesn't already know what things meet your approval in real life, you're failing as a parent and this filter isn't going to bail you out.
A teen should be able to distinguish real life from fiction. (As far as that goes, I think younger readers can too. How many REALLY think Jack planted magic seeds and grew a beanstalk that reached all the way into the clouds.) Teens are trying to understand the world and prepare for life as an adult. Fiction is often a route for someone to understand different points of view and work through difficult real life issues by exploring different sides of the same subjects in fiction. I'm not suggesting that a parent load up their teen's Kindle with erotica bestsellers. But I am suggesting that the message they're sending if they try to expunge every mention of sex in their reading materials is that sex is always dirty (and since the teen's hormones are sending them a conflicting message, this must mean they're bad, too). These parents are making the decision that it is better for their son, who thinks he might be gay and has no one he can discuss it with, to not have the option to read how fictional characters with the same concerns dealt with it. Frankly, I'm not surprised that Utah (where this idea originated) has one of the highest teen suicide rates in the country (and have had since I was a young adult living there). At least thirty years ago experts were suggesting part of the reason for this was a culture that acted like the high expectations placed on those teens wasn't that tough to meet while pretending their normal teen struggles weren't happening. I'd suggest the attitude that leads someone to see an app such as this as a good idea is part of that problem. End of rant.
If you're an author, you might have other concerns which (now that I've got that rant out of my system) I'll try to address, starting with "is this even legal?" I'm not a lawyer, although I constantly find myself playing one on the internet. It appears the answer is probably yes. I wondered at first because I was aware of a Utah company called Clean Flicks that ran afoul of the movie studios for renting edited DVDs. Since then a new law was proposed by Senator Orin Hatch (R-UT) and passed, which did a better job of delineating what was and wasn't an infringement of copyright. A new company, Clear Play (also based in Utah – yes, there is a trend here) was formed to "filter" a movie in a way that conformed to the new law and is much like what is being proposed here for books.
Although it may be legal, this raises some valid questions an author might reasonably have. If some of the words are filtered out, is the reader actually reading the book you wrote? Instead of a review complaining that, using an extreme example, Fifty Shades of Grey has too much explicit sex, is someone reading the same book with filtering going to complain that they thought they'd bought a novel and received a short story instead? If your book is being filtered by a program like this your work is being misrepresented, yet you're being judged based on this modified version. How do you feel about that?