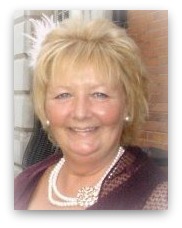 Meet Glynis Smy, of The Virtual Bookcase, a blog dedicated to showcasing books, with an emphasis on indie authors. Glynis is also an author, writing historical romances with a twist. You can learn more about her writing from her Amazon author page.
In describing how the whole concept for The Virtual Bookcase came about, Glynis says, "Once upon a time there were two Internet friends. They met via a writing group. Every day they would have 'coffee' and a 'chat' online but in the four years they knew each other, they never met. One lived in Cyprus, the other the UK. One day they decided to set up a blog to help authors promote their books, especially self-published authors as there weren't many places to market without paying out a fortune. The blog took off slowly. Sadly, the UK friend passed away unexpectedly, and the one in Cyprus was left holding the baby. Instead of closing the blog she continues to run it in her friend's memory with the blessing of the family."
Glynis, tell us about The Virtual Bookcase.
I showcase six books a week, and am full until January 2014. I do not review the books, I simply host them on the main post, and several authors pay to be added to a permanent page. The fee is a small one-off payment option, not charged for the main showcase, that is always free. The books sit until they reach archive, and I tweet/Facebook and Google+ them out, as do the followers of the blog. My friend would be thrilled to see how it has grown.
How do you select and/or prioritize the books you Showcase?
Over the years I muddled through with submissions with no links, no pics, and no blurb. Eventually my time was spent searching for the author I simply ran out of days, and patience. So I have strict requests laid out on the submissions page, and if they are not followed, I have to ignore them in favour of the other piles of requests. Sometimes I feel bad and will give the author a chance to resubmit information but recently my life changed, and so did my spare time and I have to stick to my own rules!
How deep is your TBR pile?
Although I don't read to review, I do get a gift from a grateful author, and my pile is rapidly growing, as is the variety of genre.
Have you ever been pleasantly surprised by a book you thought you wouldn't like?
I read a Zombie book, and although I hate Zombies but the book grabbed my attention. All credit to the author.
Have you ever been disappointed in a book you thought you'd love?
Because of the variety I get sent I never know what I will be reading, and only once have I felt a little disappointed.
What are the most common mistakes that you see authors making?
In my case, and related to the blog showcasing, they forget to send me the links to purchase. Can you believe it? The one thing they are trying to do, and that is sell a book, and they forget to send out the link!
Tell us about any pet peeves you have as a reader.
Reading a book that has been altered and modernised. Call me old-fashioned but I like to see a classic stay a classic.
Would you say you more often find yourself loving a book it seems everyone hates, or hating a book everyone else is raving about?
Oh, yes. I am often left scratching my head wondering why folk love A and hate B.
What can authors do to ensure a good relationship with book bloggers?
Read the requests for submission correctly, and answer comments from readers if they leave you one on the blog. It is your chance to shine and share.
If you read a book you think is just terrible, how do you handle that?
If I have been asked to review, I will write something positive. Just because I haven't enjoyed it, doesn't mean another won't. Also, I am not out there to diss authors, there are enough trolls in the world. If I have not been asked to review but enjoyed the book, and have time, I will leave a review to lift the spirits of the author. If I did not enjoy it, I keep quiet.
What was your worst experience with an author?
In relation to the blog, I received a ranting email from someone who had been given a date for showcasing, and the date had passed by 24 hours. Apparently I hadn't upheld my side of the bargain. Not sure what bargain they were referring to, as I never received money or a book from them, and as my father passed away that day the last thing on my mind was the blog posts for uploading. I responded politely explaining my situation and said the posts would be uploading the following week. There response was for me to forget it, if I was too busy to bother, they were too busy to support the blog! The words, 'their loss' sprang to mind. It did upset me, and made my husband angry but I have moved on this year and grown a thicker layer. It's my blog and I'll blog when I want too, is my new motto!
Thanks for hosting me, and The Virtual Bookcase. For those who are interested in a showcase during January/February 2014, please get in touch. The submissions page is where you will find the email address.
Thanks for a great interview, Glynis. We hope you'll find a few new followers here today.