Making a folder for People, Places, or Things in Gmail

Ack! So many emails! How do I keep track of who is sending me what? I create a folder, that's how! Creating a folder and moving your emails to it is very easy. There are two different ways you can do this.
In Gmail, just to be different, folders are called "Labels" – perhaps because you put labels on a folder? I dunno. Let's just run with that, thought.
If you, let's say, want to make a "filing cabinet" for a certain subject, you need to do that first. So, let's make a label called "writing."
Let's start with the more direct way of creating a "Label" (herein known as folder).
Scroll over to the left sidebar and mouse over it. That will extend the screen a bit and will reveal the word "More" (see pink arrow).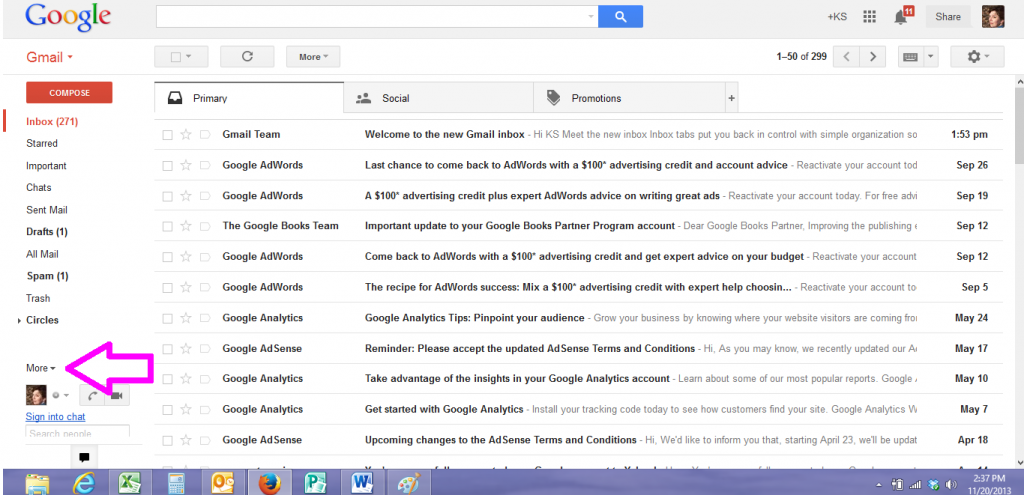 Click on "More." That will bring up a new screen (below).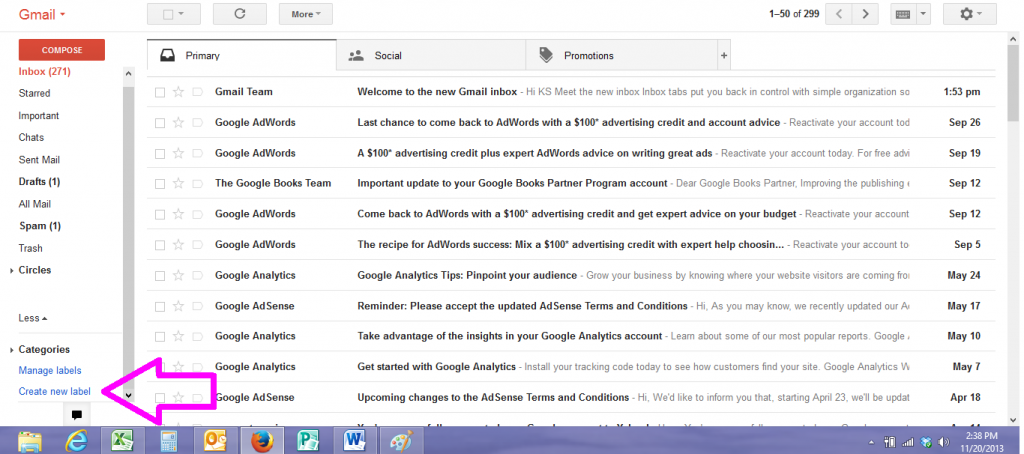 Click on "Create new label" (see pink arrow above). That will bring up the next screen: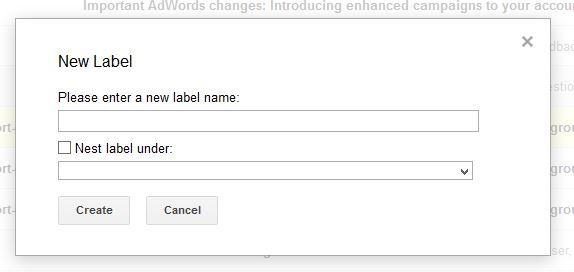 Fill in the information – how you want the name of your "Parent" folder.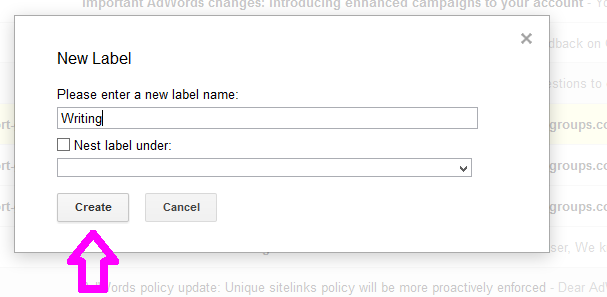 Then click "Create." And voila! You'll get a message from Gmail at the top of your screen. (Good thing, because that left sidebar folds up again!)

Now, we're going to make a "sub directory" or as Google refers to it – a "nested label."
Take your mouse right back on over to that sidebar. Do the "More" thing again (if you have to. It may not have folded back up all the way).
Next to the writing folder, you will see a tiny dropdown arrow. Click on that. You will get a little pop-up window.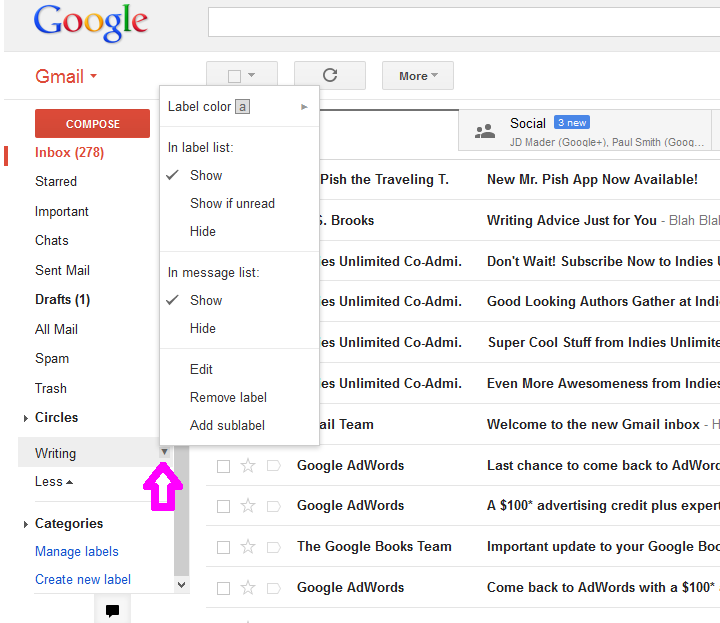 Now, while we have this little menu open, how about we make things pretty and change the "Label" color for the Writing folder? Click on Label color up at the top.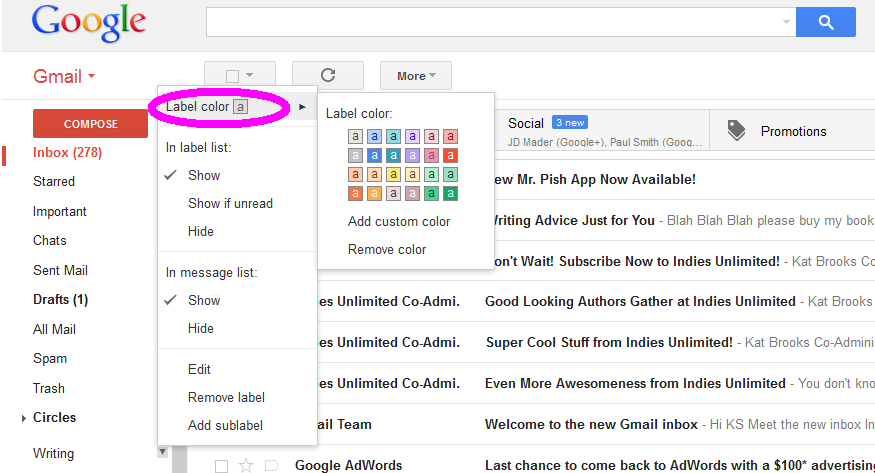 Let's make the writing folder green (since writing makes us so much money!), shall we? Or, click on whatever color you want. Yes, the stupid sidebar will collapse again and yes you'll have to mouse over it to get it to expand. Also, no, you didn't do it wrong. Coloring the label doesn't actually change the color of the "Writing" folder. It just adds a stupid green square to the right of it.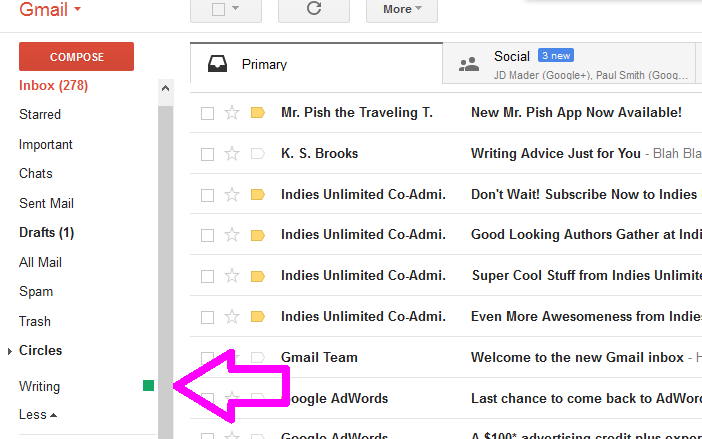 Well, I know I certainly couldn't survive without that silly green square there. Now let's get back to adding a sub-folder. Click on the stupid green box and that will bring up that same pop-up window.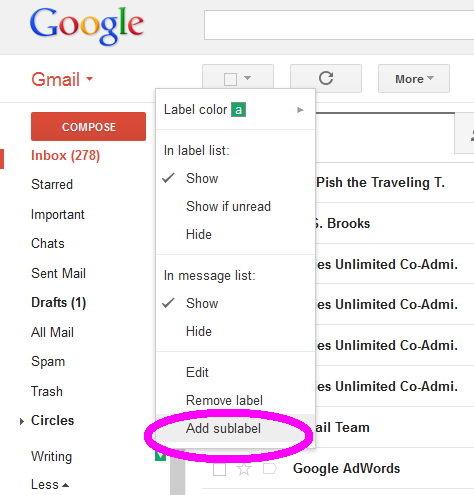 Click "Add sublabel."
Since I have a number of emails from the awesome website Indies Unlimited, I'm going to add that as my first subfolder. Then click Create.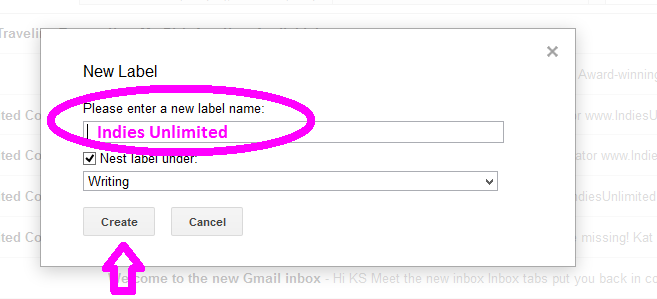 Of course, Gmail has collapsed everything again. So go back over to the sidebar and wake it up.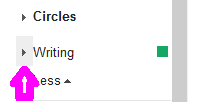 Click on the sideways carrot to the left of "Writing."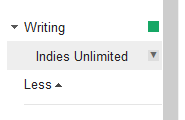 And that's where you'll find your new Indies Unlimited folder! Now, we are going to move some emails into that folder.
Since I have four emails from Indies Unlimited, I'm going to do what some sites refer to as a "bulk action" (since I'm selecting more than one item). Choose the emails you want to move and click the box to the far left of the email which will make a little check mark appear.

Once you've selected the emails you want to move, scroll up to the black folder in the task bar. If you mouse over it, a little black pop up will appear which says Move to. You know you're in the right place. Click on that. Another window will appear, giving you choices as to where you would like to move your emails.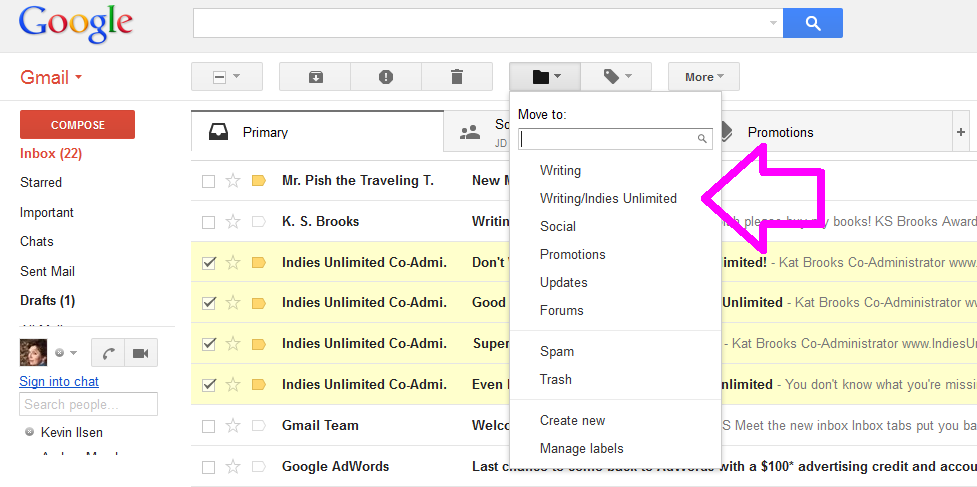 And we know we want to move those 4 emails into the newly created Indies Unlimited folder. So click that.
As always, Gmail will let you know you've done what you set out to do by showing a handy dandy message at the top of the screen.

Now the messages have disappeared from your inbox and are safely stored in your new nested folder. Congratulations!
You can also set up a folder "on the fly" from the inbox. This is handy if you don't feel like dealing with that annoying disappearing sidebar.
Select the email you want to create a folder for by clicking the little box to the left of that email:

Then mouse up to the black folder icon. You know the drill from here.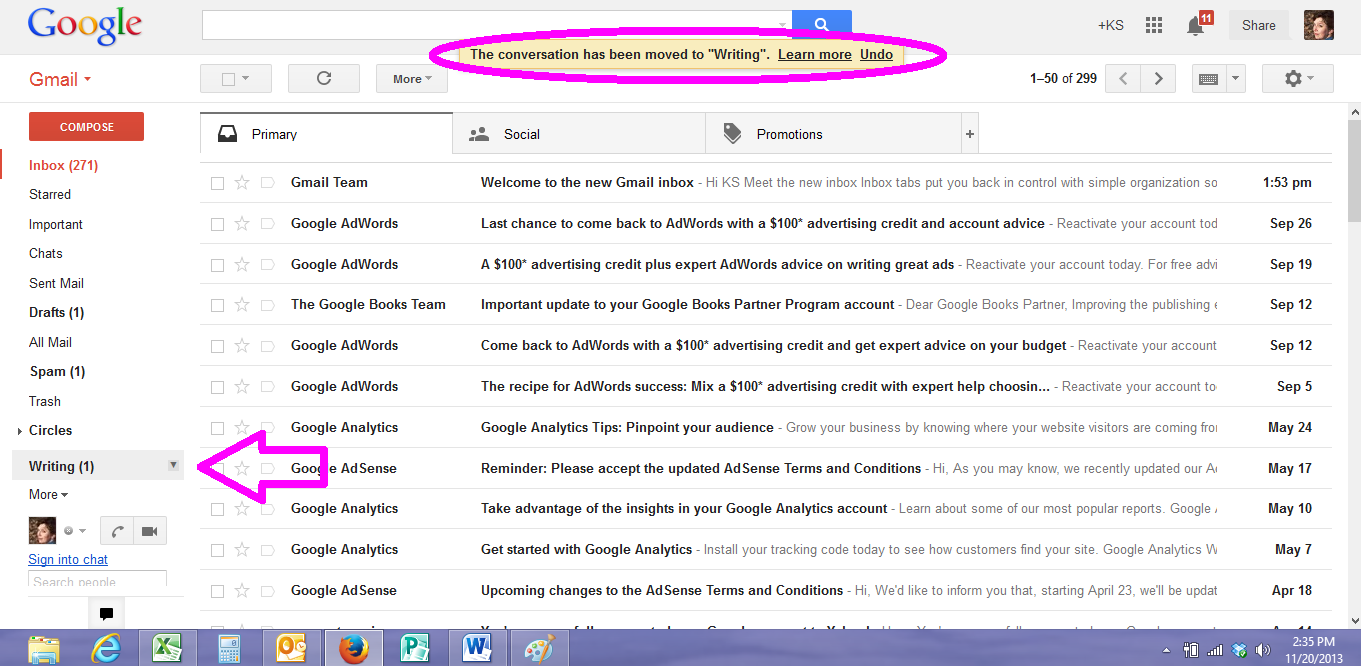 Now get that mailbox organized!