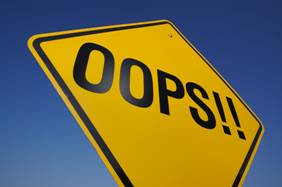 I ran a promotion during the last week of November, and it blew my mind how much help I received from readers, supporters, and of course, my author friends. I felt as though I'd decided to move house, and didn't tell anybody, yet all kinds of friends showed up to help me anyway. I've been lucky. I've had that kind of help right from the beginning of my career as a self-published author. There are things I've done solo too, though, and there are mistakes I've made along the way. Some of them have been significant, and in the interest of continuing to pay it forward, here are my confessions. I mean, here are some mistakes I've made.
1. Getty Images sued me for using one of their photos
When I needed a cover for my first novel I purchased a few from several different royalty-free image sites, and then picked one. As I was perusing images, I saved a few in case I wanted to buy one of them later on. Months later, I inadvertently used one of those saved images in a blog post I wrote for my personal website. There was a small "Getty Images" watermark in the corner of the image but I didn't see it. Getty did though.
The image ran on my site for six months and then I received a letter from Getty's legal department claiming I owed them $1200 for copyright infringement. After several weeks of discussion the amount was reduced to $500.
I do things a lot differently now. My cover designer charges less than half of that to put together a professional cover for one of my books and I don't buy any pictures for my blog posts, or anything else for that matter. It was a lot of money; I paid Getty though. I'd used their photo and I owed the money, and when I checked their website $500 was the amount they were charging for that very expensive image. So, if you think your little blog isn't being examined, think again. As their letters to me pointed out, even if you've purchased the image elsewhere, or don't understand copyright laws, you're still liable. I don't put a lot of effort into my website, I devote my time elsewhere, but one of Getty's bots saw the picture and they were happy to send me a letter. Be extremely careful that the pictures you're using are either free images or that you've paid for them.
2. CreateSpace paid me a negative royalty amount for sales of my print books
Yes, unfortunately this can actually happen. My print book sales slowed down, so I decided to reduce my pricing. As you may know, CreateSpace has a minimum price that you can charge for your print book, so I lowered my pricing as low as their system would allow. When you enter your pricing you'll see a graph that shows the estimated royalty payable at the pricing you've set. When sales are made through their Expanded Distribution channel this amount is quite low, and if you lower the retail pricing on your book low enough this amount can go backwards. A few months ago, I sold six books through the Expanded Distribution system and was paid -$0.48. Yes, that is a minus sign.
I had several discussions with the folks at CreateSpace, trying to explain to them that their program should be calculated so that you cannot enter a retail price that will pay you a negative royalty. Their response was that the royalties payable are an estimated amount and they have no control over the returns they receive from some of their distributors. So, I was still docked -$0.48 from my overall royalties.
Be careful with your pricing, and on the Expanded Distribution channels, even if the graph shows that you're due a small royalty, you may want to raise your price slightly to make sure that you will indeed be paid and not debited.
3. BookBub subscribers outside of US and UK couldn't buy my book at lower price
This last error is quite timely and involves my recent promotion. On Nov. 23rd I began a Kindle Countdown promotion that ran to Nov. 29th. During the promotion I reduced the price of my most popular e-book, My Temporary Life from $3.99 to $0.99. I also ran an advertisement on BookBub within the same time frame. My hope was that I'd see an increase in sales from the Countdown deal the day before my BookBub promotion, then I'd grab a gazillion sales on the day my BookBub ad ran, and then those sales might continue for a few days up until the Countdown deal ended on the 29th.
It worked. I sold a lot of books but I did run into a small problem. Bookbub customers, in fact, all customers in non-US/UK markets couldn't purchase my book at the lower price. Here's how it played out. On Nov. 22nd, the day before my Kindle Countdown deal was due to begin, KDP adjusted my pricing to $0.99, and locked me out from making any price changes. Kindle Countdown deals are only available in the US and UK. So, when my book was promoted on BookBub's site on Nov. 24th, at the $0.99 level, their subscribers in non-US and UK markets couldn't see the lower price. I had assumed that Amazon would lower my pricing to $0.99 across the board in all markets. They don't; you have to do it yourself. So, the countries that aren't eligible for Countdown deals still saw my book at $3.99. And, here's the problem. You can't change your pricing in the other markets during the period of your Countdown Deal. The system won't let you.
Amazon emails you forty-eight hours before your Countdown deal begins, reminding you that they're going to lock in your pricing. Prior to this you need to manually change the pricing on all the non US and UK sites within your KDP dashboard in order to have your pricing lowered across the board.
I've been emailing back and forth with Amazon regarding this problem and at the eleventh hour, just as this article was due they responded one last time to my concerns. Here's their response:
Previously we had issues with some publishers letting us know they were not able to change the price for the other marketplaces. In your specific case the reason behind the system not letting you, is the royalty that the book is under.

In order to be able to change the price on the marketplace of Amazon.ca, you'll have to make also the change of the royalty of 70% to 35%. This since the 70% royalty allows prices to go within $2.99- $9.99 only.

The system is not letting you make the change as the Amazon.com and Amazon.co.uk have the Kindle Countdown deal and can not be changed the royalty right now from 70% to 35% since the price of the books have to remain within the range for the Kindle Countdown deal.
So, there is indeed a problem. You cannot change the royalty percentage during the Countdown, in any of the markets, therefore you can't change your pricing. My advice would be to change your pricing manually prior to the lock-out period 24 hours before your promotion begins, especially if you're running it concurrently with a promotion on another site. It's always better to be on the safe side. [Note: If you're considering running your own Countdown, please read this article about the royalties issue.]
Those are my confessions. I'm sorry if you were expecting something more titillating. I'll leave my story of my naked skydiving expedition with a very well-known erotica author to another time. Yes, definitely another time.
Happy Holidays to you and yours from me and mine!