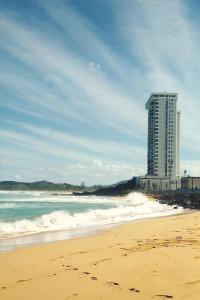 Every December, for the last twenty years, I have had to drive up to the central office to get my performance review from old Mr. Detweiler.
The drive takes over an hour. The weather is always frigid. Detweiler drones on and on about how much better I could do if I applied myself.
I only half-listen. My attention is on the poster behind his head. I love that beach. I can see myself walking along, the sand warm on my bare feet.
I must have stopped nodding at the right times. Detweiler slams his fist down on his desk. Now he's talking to me about my lack of focus. He says he expects more from an employee who has been with the company for such a long time. he says I am lucky to have this job. Times are hard.
I have been with the company for a long time. Maybe too long. I may be the only employee left who knows about the safe behind the poster. That safe is where Detweiler keeps the money he skims from the company.
That beach looks pretty good…
In 250 words or less, tell us a story incorporating the elements in the picture. The 250 word limit will be strictly enforced.
Please keep language and subject matter to a PG-13 level.
Use the comment section below to submit your entry. Entries will be accepted until Tuesday at 5:00 PM Pacific Time.
On Wednesday afternoon, we will open voting to the public with an online poll for the best writing entry accompanying the photo. Voting will be open until 5:00 PM Thursday.
On Friday afternoon, the winner will be recognized as we post the winning entry along with the picture as a feature. Then, at year end, the winners will be featured in an anthology like this one. Best of luck to you all in your writing!
Entries only in the comment section. Other comments will be deleted. See HERE for additional information and terms.