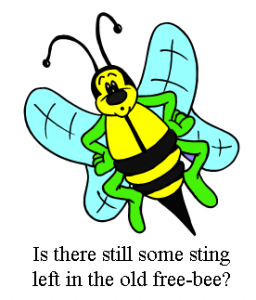 There is a free lunch, but some would have you believe it's not good for you… because it's free. Most people on IU, I'm guessing, are pretty comfortable with some version of the idea that you can sell more books by giving some away.
But not everybody out there in "writer web world" is and some even take it to the next step: moronic denial. Some examples of the arguments one runs into—and should beware of paying serious attention to:
You get what you pay for. I'm sure you've seen that said in discussions of freebies: that price actually establishes the worth and quality. Aside from the obvious objection (well, not obvious to all, I guess) that reducing a ten buck book to free or 99 cents doesn't change its content, there's a haunting idea that such thinking would mean that a guy would get a better experience paying money for what he gets from his wife for free.
Pricing establishes value and you need to value your work or nobody else will. And if you spend years making something, it must be worth a lot. Okay, most buyers aren't stupid enough to think that a discount erodes value. But beyond that, the idea is practically un-American. Capitalism holds that price and value of goods is determined by consumer demand. The theory that value of goods is determined by the amount of labor that went into them is called "Marxism". And we've all seen how well that idea worked out.
The flood of free and cheapie books on the market degrades the value and income of quality writing. You see this said a lot, oddly enough; often applied to indie books in general. A flood of crap competes unfairly with the good stuff. You know, the way all those Korean cars on the market bring down the value of Maseratis and Rolls.
Free stuff won't pay off in the long run. Well… back in the Seventies a new kind of newspaper appeared in almost all American cities: the free weekly. In most cities they are now the most read and most profitable. The money, it turns out, isn't in collecting quarters, it's in selling ads in big circulation media. And one way to look at your free book is as a free advertising medium for your other books and your name recognition.
If these seem like goofy arguments to you, it's great you're not an idiot. But there are even loopier arguments: dozens of them in one Linked In discussion alone—the never-ending thread entitled: "For The Sake Of Writers Everywhere, Please STOP this!" You name it: appeal to artistic responsibility (yeah, art is valued by money), the evil of bringing down prices of established writers, get what you pay for, not with all my hard work, yada, yada. What emerges is a polarization between writers who have never tried using freebies, but are dead set against it because it seems too unnatural and wicked… and those who report using them to sales advantage, and therefore tend to take the view that they work.
The whole concept that it's important to place high financial values on things that are important to your soul and self-expression, but it's better to pay for it than not because price isn't based on what people will pay, but what you think they should pay because of all the work you put into expressing yourself, is abroad and staunchly defended. Even though it's patently nuts.
All of which ignores the real issue with using freebies and cheapies, which is not an economics thesis, but a marketing tool used around the world from punchcards to happy hours to one cent sales to most of Wal-Mart. But beyond that, is a very special tool when viewed in the context of the "Amazon ecosystem". Freebies unlock the door to steps in a process of getting discovered. Sure, best-sellers don't have to give away books… but they do. I have around a hundred free Kindle books from best-selling authors. Paul Levine almost always has one from his large catalog online for free. Warren Adler does freebies several times a year. T. Jefferson Parker recently gave away a title—and on BookBub, meaning he or his publisher paid $240 to give it away. Are they stupid? No, they understand how it works. Freebies build recognition.
One thing to keep in mind is that people can read for free in many ways. Libraries, for one. Piracy, for another. Used bookstores—freebies from the writer's standpoint—are another. And the answer to all of these as well as to volunteer, "leveraged" freebies is the same as far as indie writers are concerned. To quote Cory Doctorow, "The problem isn't piracy; it's obscurity." Replace "piracy" with any way that people get your book in their hands. We hear talk of "building platforms", of yakking on social media to get recognition. What could do that more powerfully than a person actually owning one of your books?
Add to that the "ecosystem" approach of building reviews in order to gain access to all the Amazon-centered newsletters and suggestion sites/mailings, and freebie/cheapies start to shine as a great idea—at the right price. Freebies and "Countdown" discounts can be of significant value when used in a conscientiously applied program of oral hygiene and best use/abuse of the "Amazon ecosystem". To see a ten point progression on how to apply that to your books (and learn what the hell "Amazon ecosystem" means, contact me at My Website to get a free copy of my pdf, "MS To Market", prepared for my talk at the West Coast Writing Conference.