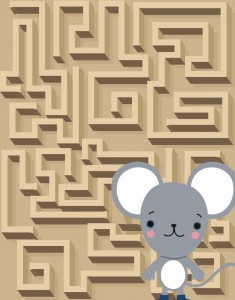 A discussion started here Tuesday on K.S. Brooks' post about common formatting mistakes in print books about whether a novel needs a table of contents. I like a healthy discussion, but I like facts better. So I did a web search to try to find out whether Amazon requires a ToC in every Kindle book.
The answer is no.* The KDP Publishing Guide mentions ToCs in two places. It says here that an active ToC is recommended, and here it says that an active ToC is "highly recommended." In neither spot does it say that a ToC is required. Even Amazon's official Kindle Publishing Guidelines pdf (which gets very granular – CSS, anyone?) uses the word "recommended," not "required," when talking about ToCs.
But let's say you decide that, just to be on the safe side, you want to put a ToC in your Kindle book. What does "active" mean and how do you accomplish it?
KDP provides a link to Microsoft's support pages. But there's a much better explanation in Mark Coker's Smashwords Style Guide. I heartily recommend downloading this free book, by the way, even if you never plan to put your tender manuscript through Coker's Meatgrinder. If you don't want to pollute your eyes with even a glimpse of the Smashwords main page (especially if you've got the adult content filter set to "off" – oh my…), it's free at Amazon and B&N, as well.
I was going to do a tutorial, but then I looked at my printout of Coker's style guide and realized his excellent explanation runs nine pages. Boiling that down into a 700-word blog post, I think, is just asking for trouble. So I will do a quick summary of the steps involved to create an active, or linked, ToC in MS Word, and refer you to section 20 of the style guide for the full instructions.
1. DO NOT use Word's native ToC generator. It doesn't work for e-books.
2. Turn on Show/Hide (it's the button with the paragraph mark on it).
3. Type up your ToC where you want it to be in your book. Don't put in any page numbers.
4. At the start of each chapter, highlight the name of your chapter (without highlighting any paragraph marks above or below) and select Insert: Bookmark. In the dialog box, type the name of your chapter, with no spaces.
5. Then to go your ToC, highlight the words "Table of Contents," select Insert: Bookmark, and name it "ref_TOC" (without the quotation marks).
6. Next, in your ToC, highlight the text of your first chapter name, right-click, and pick Insert: Hyperlink. Make sure "Place in this document" is selected on the left side of the dialog box. Then scroll through the list of bookmarks and click on the corresponding name. Repeat for each of the entries on your ToC.
7. Now you get to kill two birds with one stone. CTRL-click the name of your first chapter in your ToC. Is your cursor now on Chapter 1? Huzzah! Now highlight that chapter title again (not the one in the ToC – the actual chapter title), right-click and pick Insert: Hyperlink, and scroll through the list to find your "ref_TOC" bookmark. Once that's inserted, CTRL-click your chapter name. Are you back at your ToC? Huzzah! Repeat this step for the rest of your ToC entries.
8. Now open the Insert: Bookmark dialog box again, click the "Hidden bookmarks" box, and delete all the gibberish bookmarks that Word automatically inserted for you.
That's it. Poof, done!
*Apple, however, apparently does require a ToC. It might have something to do with their iBook publishing software, which (as near as I can tell on my lowly PC) has template pages specifically set aside for the ToC which you can't remove. That said, my Pipe Woman Chronicles are available on iBooks via Smashwords, none of them has a ToC, and Apple has not yet told me to take them down. But that might be because no one has bought them but me. Sigh.