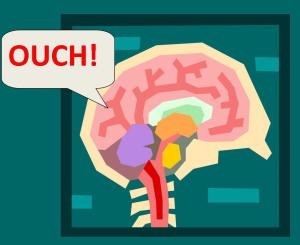 Oh my. Talk about counter-intuitive. Kindle Countdown made my brain hurt.
The instructions could be laid out a LOT better for people embarking on it for the first time. Martin Crosbie touched on this in his recent post about mistakes.
If you're just running a Countdown promotion and not doing any kind of advertising with it, then none of this might be a big deal to you. But, if you're trying to make the most of your Countdown promo, then that's an entirely different story. Think about it – if you pay for an ad which runs online – that's international. If people click on your book and it's not "on sale" in the country they're in…well, you and I both know how annoying that kind of thing can be. So, if you want your book to be on sale everywhere, it can get a little tricky (again, as Martin mentioned in his article).
It was my (incorrect) understanding that you had a choice between running a U.S. Countdown promotion or a UK promotion. Wrong. You can run both at the same time, but you have to know HOW.
You are not obligated to run both US and UK Countdowns at the same time. If you want to, however, you literally have to set up TWO different Countdown promotions with the same dates. Set up your first one – in the US. If you do it successfully, you'll get the screen below. I had the Indies Unlimited chimp circle the "Marketplace" for you. US is considered the "marketplace," as is the UK. (Don't forget, Countdowns get you 99 cent sales at 70% royalty, not the normal 35%.)

This shows that I've got a Countdown set up in the US (Amazon.com) for December 15 – 21, 2013. But what about the UK? Well, you just set it up the same way, but you select Amazon UK from the drop-down window.  Once you're done, it will look like the screen below (courtesy of Martin Crosbie):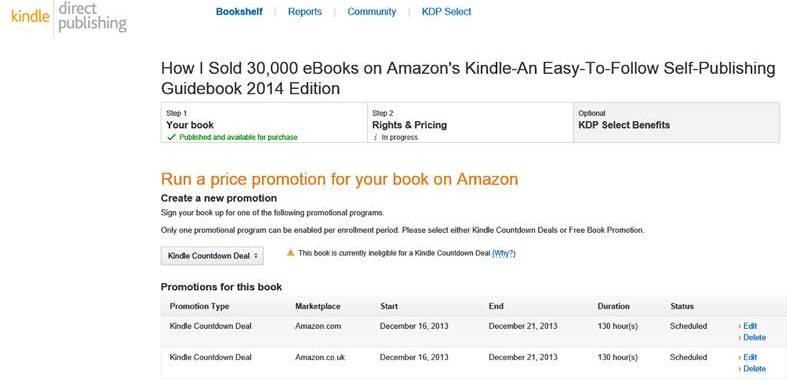 See how happy and organized they look together? Oh, just wondrous! Well, that's not what I did. And I didn't realize that's how it should be done until I went in to change my pricing in non-Countdown countries so the book would be on sale everywhere.
As Martin mentioned in his article, if you want to have your book on sale in Canada or other non-Countdown countries, you can't wait until your Countdown starts. KDP will lock all your prices, and it will be too late. Directly from KDP:
     Previously we had issues with some publishers letting us know they were not able to change the price for the other marketplaces. In your specific case the reason behind the system not letting you, is the royalty that the book is under.
     In order to be able to change the price on the marketplace of Amazon.ca, you'll have to make also the change of the royalty of 70% to 35%. This since the 70% royalty allows prices to go within $2.99- $9.99 only.
     The system is not letting you make the change as the Amazon.com and Amazon.co.uk have the Kindle Countdown deal and can not be changed the royalty right now from 70% to 35% since the price of the books have to remain within the range for the Kindle Countdown deal.
     Once the promotion ends you'll be able to change the price for Amazon.ca marketplace.
Basically, that convoluted email is saying that you have to change the price manually before the Countdown locks you out. So, I went in and did this 2 days before the Countdown was scheduled to go live. I changed the royalty from 70% to 35%, then proceeded to go down the line and update each country's price to the equivalent of 99 cents. (See below.)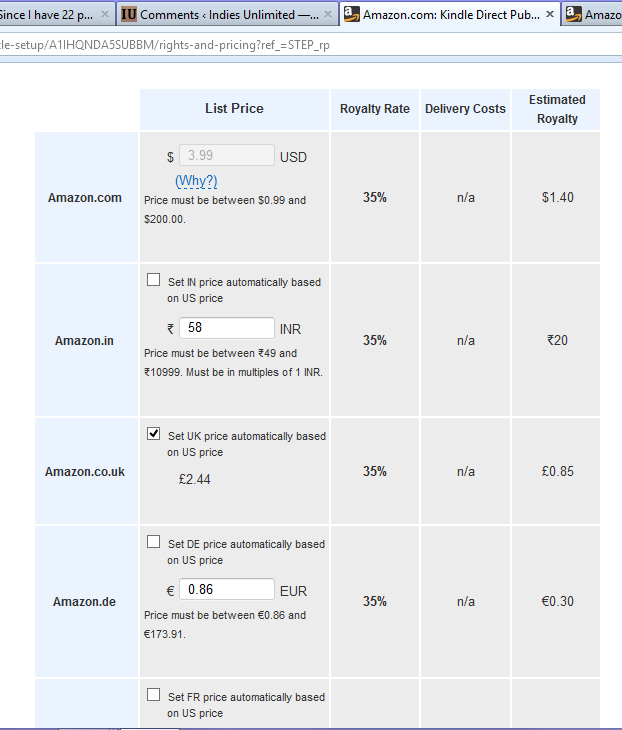 You'll notice the US price is shaded out. I'm not able to change that one because that's the Countdown "marketplace" I've got set up. I haven't selected the UK pricing at this time because I was still hoping that KDP would implement the Countdown there, since I screwed up and didn't do it myself. So, you have to uncheck each country's "Set price automatically based on US price" and enter the equivalent price in the box. How do you do this? That's a very good question. Luckily, I had another book in KDP Select that was priced at 99 cents, so I opened that one up in a separate screen and copied those prices into this one. If you don't have access to another book in Select, you'll have to use an online converter.
At the time I'm writing this, it's 12/13/13, and I'm waiting for KDP to reply to my request to add the UK to my Countdown starting the 15th. Hopefully they will. But just in case, I've already squeezed in there and manually dropped the UK price to 77p so the advertising we did won't be misleading to folks in the UK.
Confused? No? I'll try harder next time.
Footnote 12-17-13 – make sure to check your royalties on your "promotions" report if you run a Countdown. My royalties are currently showing at 35%, which should be 70%, which is the whole point of running a sale through that program. If you're considering running your own Countdown, please read this article about the royalties issue.