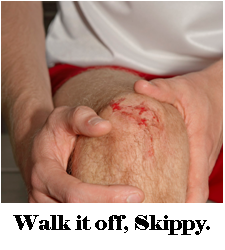 You don't have to spend a lot of time on social media to see plenty of examples of jackassery. This is not especially true of authors, but authors are people, so it is just as true of authors. Seldom does a day go by that we are not exposed to some kind of little drama – petulance, whining, back-biting, or fervent appeals to action over some imagined injustice. What a buzzkill.
When ignorance (don't know) combines with apathy (don't care) and arrogance (I'm special), you really have the makings of mega-drama. One of two things is usually at the center when this vitriolic mixture bubbles up to the surface. Either some author did not like a review they just got, or somebody's book or guest post got turned down.
I have received a few bad reviews. It's disappointing. I get that. What I do not get are the authors who wilt like a hothouse orchid or erupt like a volcano at a bad review. It is simply a statement of fact that not everyone is going to like your book. That's perfectly okay, and it is perfectly okay for them to say so.
I don't know what people get so exercised about. If there was ever a time when a word from a single, credible review source could tank your aspirations in the literary world, that time has long passed. Having a mixture of review ratings is probably helpful. People get suspicious when they see nothing but five-star reviews. After the sock-puppet scandal, who could blame the public for casting a jaundiced eye at such a spectacle? Get this: SOMEONE SOMEWHERE WILL HATE YOUR BOOK. Buck up little camper.
If you are smart and the review deals with correctable issues, you'll take advantage of the knowledge and make some changes. Isn't it great that we live in an age when you can easily do that? Even if it doesn't deal with correctable issues, rampaging all over the internet hurling epithets at your "attacker" is not the way to go. That's just bad form and it makes you look like an idiot.
I don't personally do reviews. IU does not do reviews. That means I don't have to get involved in that particular sort of drama. But that doesn't prevent bad behavior from landing on our doorstep.
We do a limited amount of book promotion on the site. We run 28 posts per week. Of those, two are reserved for paid promotion. About four spots are used for free promotion (either book briefs, video trailers, or new release announcements). That leaves 22 slots in the schedule. These are filled with staff posts, guest posts, contest announcement posts, the weekly flash fiction challenge, polls, like-fests, an occasional humorous fake ad, and tutorials. The reason I am sharing this with you is to illustrate that we are not primarily a book promo site. We are a writing resource site that does some promo.
Still, when we do promote a book, we want that book to be an excellent example of indie writing and publishing. To assure this as much as possible, we have a vetting process in place to evaluate books submitted for  book briefs, video trailers, new release announcements, or paid promo spots. Not surprisingly, some people are less open to constructive input than others.
The team leader for the vetting process is my partner, K.S. Brooks. Kat is well qualified to guide this process. She has served for many years as a literary contest judge and is an award-winning author and photographer in her own right. Other minions are brought in on an ad hoc basis to assist, so we have lots of eyes working on any given vetting project. It's like getting a mini-critique that includes input on the cover, book description, and the first chapter. It takes effort, time, and expertise. It has value. We do this for free. We do it to be helpful.
It amazes me how angry some people can get when you point out a few typos or usage errors, or tell them their formatting is messed up, or that their cover text is not readable in thumbnail size. I mean really indignant. Some just never respond at all.
One guy actually wrote, "If you don't want my money, I'll take it elsewhere."
Does this guy think we are his personal promo monkey? Here's your banana, monkey, now go promo my book!
I don't have any problem with people taking their books elsewhere. In fact, we have a page that lists a whole lot of book promo sites. We even e-mail the link for that page to people. Again, to help.
The thanks and praise for all this effort is sparse. I feel for Brooks.
Indies Unlimited does a lot of things. Book promotion is a relatively small portion of what we do here. We are happy to help you promote your book if it passes vetting, and happy to provide you some guidance to get it there if it does not.
Writers have to be as open to criticism as to praise. It is how we grow.