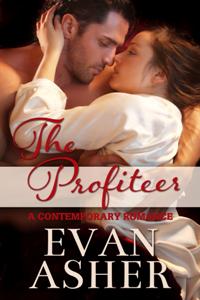 The Profiteer
by Evan Asher
Genre: Romance
Word count: approx. 44,000
When Kelly hears that Hudson Industries is coming to her small town of Cedar Grove, she is afraid of what it will mean for her community, especially the downtown merchants. Her almost-fiancé, Curtis, fuels these fears. When watching the front desk of the motel for her best friend, Kelly meets a sexy stranger who throws her senses into overdrive. She's baffled by her unexplainable response to this dangerous-looking man. Then she finds out he is Luke Hudson, son of billionaire Crawford Hudson, the enemy. Try as she might to despise him, his impact on her is undeniable. Before moving on, Luke will shake her safe, comfortable life down to its very foundations.
This book is available from Amazon, Smashwords, and Barnes & Noble.
Evan, how did you come up with the title for your book? Does it have any special meaning?
I considered many words including tycoon, pirate, magnate, etc., but profiteer seemed the most fitting. I needed a word for a wealthy industrialist whose business practices are questioned by the main character, mostly because of her boyfriend's negative attitude.
Who was your favorite character and why?
Kelly is my favorite character because of the transformation she undergoes as the story progresses, and because she finally allows herself to take a risk, to experience some real passion for the first time in her young life.
Does your book have any underlying theme, message, or moral? 
The underlying theme is that change might be scary, but it's not always bad. Fear of change can often prevent people from moving forward in beneficial ways and rob them of potential joy.
What would/could a reader or reviewer say about this book that shows they "get" you as an author?
I would be very flattered if readers can lose themselves in the story, and if they enjoy the way love blooms from what appears, at first, to be little more than a wild fling. Sometimes our crazy impulses actually lead us in the right direction!
Give us an excerpted quote from your favorite review of this book: 
"I read this book overnight because once I started reading I was caught up and carried away."
Where can people learn more about your writing? 
http://evanasher.weebly.com/