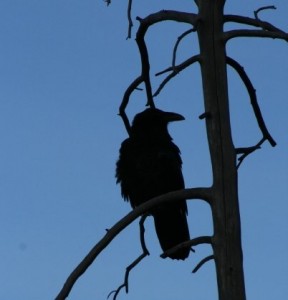 Among my people, it is said that the vigor of battle brings the warrior closer to the nether world. 

Great significance is accorded to the first animal a warrior sees after combat, for it is said that in this moment, more than any other, we can see what the future holds for us.
My friend Axor saw the rabbit. He would soon be blessed with abundance. Hrull saw the hawk, signifying victory in his next battle.
I kept quiet while the others celebrated. I did not want to admit I had seen the raven. Yet, inwardly, I began to prepare myself…
In 250 words or less, tell us a story incorporating the elements in the picture. The 250 word limit will be strictly enforced.
Please keep language and subject matter to a PG-13 level.
Use the comment section below to submit your entry. Entries will be accepted until Tuesday at 5:00 PM Pacific Time.
On Wednesday afternoon, we will open voting to the public with an online poll for the best writing entry accompanying the photo. Voting will be open until 5:00 PM Thursday.
On Friday afternoon, the winner will be recognized as we post the winning entry along with the picture as a feature. Then, at year end, the winners will be featured in an anthology like this one. Best of luck to you all in your writing!
Entries only in the comment section. Other comments will be deleted. See HERE for additional information and terms.