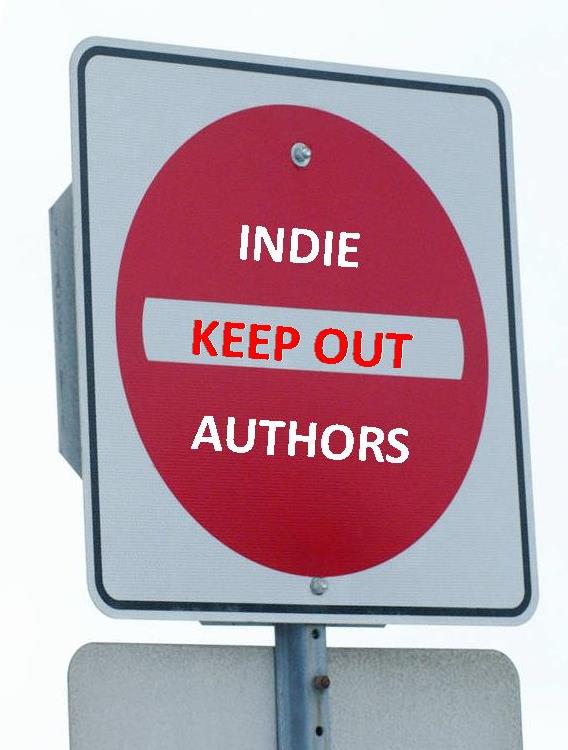 The indie-author blogosphere (you didn't know we had one, did you?) lit up this week with fallout from an article Hugh Howey wrote about the shabby treatment of indie authors at the RT Booklovers Convention in New Orleans last weekend.
Howey said he had heard from several people who attended the conference that indie authors – even bestselling ones like Liliana Hart – were labeled "aspiring authors" and shunted to a separate room during the book signing event. And while trad-pubbed authors each had three feet of table space for signing their books, indies were crammed in like sardines next door.
As near as I can make out from the comments, the "aspiring author" thing was either a single comment by a volunteer who misunderstood the difference between the two rooms; or a title attendees picked for themselves upon registration, and if they accidentally ticked "aspiring" instead of "published" on the registration form, it was their own damn fault.
As to the separate signing rooms, the split was supposedly an administrative decision. Trad publishers shipped in books for their authors to sign (and for fans to buy on site); indies, of course, brought their own books. Reportedly, hybrid authors had to pick one room or the other – and if they picked the trad-pubbed room, they weren't allowed to bring in copies of their indie titles because of the potential confusion over who paid for which books where.
Howey says, "RT is a major bookselling convention, a place that publishers expect to sell boatloads of titles." It would stand to reason, he goes on, that the corporation running the sales portion of the event would want to encourage sales they can make money on. It's unclear which corporation that was, however; Howey speculates it was B&N, but someone posted in the comments that it was a company called Anderson Booksellers. I'd never heard of Anderson, so I did a quick web search and found several unrelated indie bookstores with that name, as well as an operator of grade school book fairs. So I still don't know who ran the sales operation at RT.
One thing Howey didn't directly mention is that the convention organizer is RT Book Reviews magazine. I admit that I have never picked up a copy of this publication – but if it's anything like the other industry-related magazines I've seen, publishers probably buy a lot of ads in it. You have to wonder whether the publishing industry attitude toward indies didn't permeate the convention's planning process, at least to some degree.
On the other hand, in the comments on Howey's blog, one attendee said the whole convention was poorly planned, and the book signing snafu was only one of many screw-ups.
So who knows? What we do know is that indie authors attended the RT Booklovers convention assuming they'd be treated as equal to their trad-pubbed colleagues, but weren't.
Maybe we need our own convention.