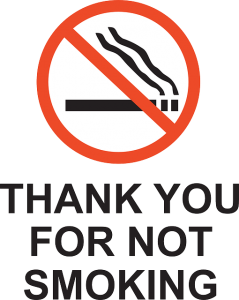 When someone invites you to dinner in their home, that's a nice gesture, right? Normally guests offer to bring something, and sometimes, even if the host says "We're all set, but thank you," some guests bring a gift to show their appreciation. But sometimes, and I guess it doesn't matter the reason, people just don't think they need to show any sort of appreciation. Sometimes, people don't think rules apply to them. Sometimes, people just don't think.
So imagine, if you will…
A guest arrives for dinner, sits down at the table beneath the No Smoking sign, and lights up. The host politely says, "Guest, there's no smoking in the house." The host points to the sign. "You're welcome to smoke out on the deck, but we'd love you to stay for dinner."
Gracious, right?
So the guest puts out his cigarette. Maybe he didn't see the sign behind him and it was an honest mistake. A moment later, he lights up again. The host looks at him quizzically. The guest says, "You're kidding, right? You expect me to eat dinner without smoking?"
The host looks around the table at the ten other guests who are happily enjoying their meals without smoking a cigarette. "Yes."
"Well, fine then. Have a nice dinner." The guest removes himself from the table and leaves. A moment later he is back. He sits down and lights yet another cigarette. "I'm going to leave this lit, but I'm not actually going to smoke it. Technically, that's not smoking."
Wow. That's rude and disrespectful, isn't it?
Damn right it is, and something similar to that happened right here on Indies Unlimited recently.
The Evil Mastermind and I work tirelessly to make Indies Unlimited a place where people will feel comfortable. The minions are always responsive, gracious hosts, and welcome one and all. None of us receive any compensation for the time we put in here. Some of us do it full-time, some of us part-time, but either way, we are donating our time to help, educate, and mentor indie authors from all walks of life. Sure, we sell advertising. Have you checked the prices? At one to two ads a week, we're barely covering expenses.
Hise and I never complain about putting our own projects aside to work on IU business (okay, maybe I do). We run thirty-five articles here every week, and get hundreds of queries. There is a lot of "behind-the-scenes" work, including scheduling, formatting of posts, and more. Sometimes authors need hand-holding. Sometimes we have to find the gentlest way to tell someone that their book needs work before it can appear on the site. Sometimes it's overwhelming, but we're always polite to people. You never know what someone could be going through. Guess what? It would be nice if people treated us the same way.
Just because Hise and I help people doesn't mean we don't need help sometimes, too. It doesn't mean that we don't have health, or personal, or financial issues. It just means we don't make them public. Do I sound angry? Damn right I am. We actually had to block an author from commenting on the site today.
I will not stand for someone coming into my home and being rude and disrespectful. This is a place where authors can come to learn, socialize, and have their work promoted. All for free. Because of Indies Unlimited, I have met some super nice people. I enjoy giving my time, because most people are grateful. I enjoy reading the posts and the comments, because even though I've been in this industry for over 30 years, I'm still learning.
What warms my heart the most, though, is the fact that so many people, both minions and guests, are willing to share their knowledge and offer support in this confusing and difficult industry. There are so many good, kind authors out there – and it's a pleasure and an honor to host them right here in the Indies Unlimited home.
To the author we had to block today, I have three words: Shame on you. To everyone else, I say: Thank you.