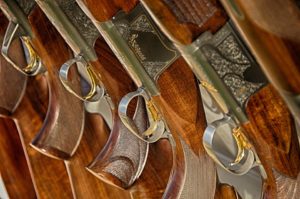 There's been a discussion in the media over the past couple of weeks about students on some college campuses calling for trigger warnings on their course syllabi.
The term trigger warning, in case you managed to miss the excitement, is defined most narrowly as a notification that what you're about to read (or see or hear) might cause flashbacks or panic attacks in someone who suffers from post-traumatic stress disorder. The practice of labeling such content apparently began in feminist and self-help forums. Since then, it has spread – even some media outlets now use them – and the initial definition has broadened to include everything from rape and murder to colonialism and (I kid you not) animals in wigs.
We could debate the usefulness of these sorts of warnings and their place in our broader society. But we're all about indie authors here at Indies Unlimited, so I'm going to try to limit the discussion to what sorts of warnings, if any, indies ought to provide about difficult content in our books.
I talked with my daughter Kat about this the other day. Apparently trigger warnings are a thing in fanfiction forums. Archive of Our Own, for example, requires authors to include a rating, a fandom, and at least one of the following warnings: major character death, underage sex, rape/nonconsensual sex, graphic violence, "No Archive Warnings Apply," or "Author Has Chosen Not to Use Archive Warnings." Authors are free to use other tags, as well. The idea is to point readers in the direction of things they would like to read, of course, but it's also aimed at those who believe they would be traumatized by reading something they'd like to avoid.
As an author, I'm of two minds about this. On one hand, I certainly don't want to traumatize my readers. But on the other hand, I write urban fantasy. Urban fantasy novels often include characters who are shapeshifters. Sometimes, they have sex with humans. Sometimes, they're not very nice about it. The first chapter of Fissured includes a jaguar attack in downtown Denver. It's no secret – anyone can read it in the "Look Inside" feature. Should I include a trigger warning for it? Would I be giving away the plot if I say there's an attempted rape later in the book? Would it make a difference if I said the assault is not depicted as graphically as it could have been? What if I told you that Naomi overcomes her would-be rapist?
There's a legal concept called a chilling effect. It's anything that inhibits or discourages your natural rights – including your right to free speech. What concerns me about the concept of trigger warnings is the chilling effect it might have on the creators of graphic content. I doubt I would have handled those scenes in Fissured any differently, had this topic come up before I wrote the book. But I can see where another author might. And I'm not sure that's a good thing.
We live in an age in which everybody is supposed to be celebrated and nobody is supposed to get hurt if we can help it. Every kid on the team gets a trophy at the end of the season. We take off our shoes at airport checkpoints because some guy tried once to hide a bomb in his shoe. It's all about never having a bad or difficult experience. It's all about having a safe life.
But that kind of safety is an illusion. I guarantee that as soon as that guy was caught, terrorists gave up on putting explosives in shoes. And the kid who got a trophy every year for simply showing up for T-ball isn't going to be very well prepared for life in the real world – nor is he or she going to be motivated to improve.
One of the things literature does is give us a safe place to examine things that scare us. What if a writer labeled a tough scene, or even stayed away from writing it, out of a sense of duty to protect his or her readers – but that scene would have helped somebody work through a problem?
I don't have an answer. But I think it's worth thinking about.