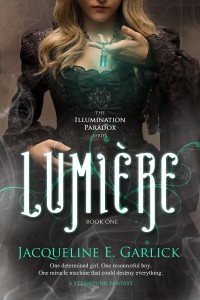 Lumière
by Jacqueline Garlick
Genre of this Book: YA (Sci Fi) Steampunk Fantasy
Word count: 102,000
After an unexplained flash shatters her world, seventeen-year-old Eyelet Elsworth sets out to find the Illuminator, her father's prized invention. With it, she hopes to cure herself of her debilitating seizures before Professor Smrt—her father's arch nemesis—discovers her secret and locks her away in an asylum.
Pursued by Smrt, Eyelet locates the Illuminator only to see it whisked away. She follows the thief into the world of the unknown, compelled not only by her quest but by the allure of the stranger—Urlick Babbit—who harbors secrets of his own.
Together, they endure deadly Vapours and criminal-infested woods in pursuit of the same goal, only to discover the miracle machine they hoped would solve their problems may in fact be their biggest problem of all.
This book is available from Amazon.
Jacqueline, how did you come up with the title for your book? Does it have any special meaning? 
Yes, the title does have special meaning! In the book, Eyelet is searching for her father's long lost machine The Illuminator, which is similar to today's x-ray machine. Back in the 1800's when the x-ray was first invented it was referred as 'the light' or 'the ray'. Lumière means 'light' in French. In the book, Eyelet finds a file marked Lumière in her father's old things, which she thinks it's worthless, but then… I'll stop there. Don't want to spoil the surprise!
Who was your favorite character and why?
This is a toughie, because, of course I love Eyelet and Urlick—I love them all really—but if pressed, I'd have to say Iris is my fave. (Yeah, Iris!) I loved the challenge of writing a character who can't communicate in conventional means. Iris keeps that secret for most of the book, too, which made it extra difficult to endear her to fans. But when Beta readers wrote back in early drafts, "more Iris, please!" I knew I was onto something.
Does your book have any underlying theme, message, or moral?
Yes, I played with two major themes in this book. The first was the importance of inclusion and acceptance of all people in society, (which remains a struggle still today, sadly) and the second was that of the duel edged sword of scientific progress. I'm disturbed by the fact that every time something is created to enhance, repair, or preserved lives today, it seems big corporations step in and manipulate the science in a way that end up harming humans instead. I'm also disturbed by how charities today seem to be morphing into big corporations.
What would/could a reader or reviewer say about this book that shows they "get" you as an author? 
Oh, wow, great question! I guess I would have to say I hope that readers appreciate the depth I try to weave into my writing, and the layers I work to apply to (hopefully) create a richer, more intense reading experience for them (especially when it comes to world building and character development). I hope they feel a part of the story and come away from it yearning for more, like I do from books I really connect with.
Give us an excerpted quote from your favorite review of this book: 
Oh, there are so many of them! (Thank you dear readers!) But I must say, I really adored this statement. "This steampunk fantasy reminded me of L. Frank Baum's Wizard of Oz novels jacked up to the tenth power."
Where can people learn more about your writing? 
I'd love it if interested readers would sign up for my newsletter here: www.jacquelinegarlick.com. My newsletter is the fastest easiest way to keep up with my writing. It's where readers go to find out about all my new releases, receive sneak previews of my newest writing, AND learn about all the cool contests I run! Don't worry I keep the list secret, and my newsletter only comes out about once a month.