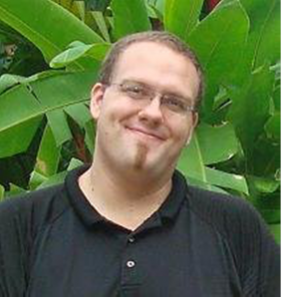 Jay Lee runs a book promo site called Choosy Bookworm.The mission of the site is to bring authors and ebook lovers together.
He's always been passionate about reading and has a Kindle crammed with ebooks.
Jay and his wife decided to build a Facebook group for book lovers and advertise the occasional indie book to other bookworms like themselves. Jay says the wonderful feedback from readers and authors encouraged him to  build a site as well as set up a daily newsletter to accompany the Facebook group.
Jay, how long has the site been going?
Choosy Bookworm is still fairly young. We started putting up a temporary site in January of 2014 and set up a real site featuring books in March. The beginning of March is also when our newsletters began going out. During this time, our readership grew a lot! Our first newsletter went out to 80 people in March and by the end of May, our list of daily newsletter subscribers had grown to 3800. By mid June, this number had grown to 4800. It goes fast, and it's been an incredible journey already! :o)
On our journey, we have received a lot of feedback and direction from readers as well as authors, and we are very grateful for it. One of our most vocal supporters is author Jackie Weger, author of Finding Home. We call her our VIP, because she has taken the time provide us with a lot of direction.
What sets your site apart from other promo sites?
Our main focus is to connect with authors and readers. We have set up an engagement campaign for our readers that works to educate and entertain them. Readers are also encouraged to be engaged on Facebook and Pinterest, which has been very well received. For these reasons, our daily newsletter has a very high open rate and many readers visit our page daily.
Encouraging readers and authors to write us has been beneficial to Choosy Bookworm because we often receive emails from readers and authors that help us to improve how we run not just our site, but our business as a whole. I spend a good portion of my working time reading and answering emails and connecting with authors and readers, which is certainly time well spent.
I enjoy getting to know the authors better and love hearing feedback on their promos. Connecting with authors is what I do for fun and it truly is a special part of my day.
Tell us about your strategy for promotion – how do you reach readers?
Our main way to reach readers is through Facebook. I remember hearing a great piece of advice that said "Wanna know which Social Media platform you should be on? It's the one you will actually use."
I love Facebook and was already spending a significant amount of time on Facebook before Choosy Bookworm. So naturally, that's the platform I chose to start off with.
We are continuously running a couple of ads on Facebook that, after much testing and trial and error, have a very nice conversion rate. These ads are targeted specifically to book lovers which has the advantage that readers who receive the newsletter will actually open their emails because they are already interested in what we have to offer.
Are there certain criteria a book must satisfy before being accepted for promotion?
We generally look for books that have at least 8 reviews and an average rating of 4 stars. Also, the book should be 80 pages or more (unless it is a children's book).
Many authors have figured out that I don't completely stick to those rules and I use them more as a guideline. There are several cases where, even if a book does not fulfill all of these requirements, I will feature the book — maybe because I know the author has successfully listed another book with us before, or the book looks like something our target audience would especially enjoy.
The reason I listed these requirements was simply to discourage the "make a quick buck" authors who will put out a 20-page low quality book.
Are there genres or types of books you do not accept?
We don't feature, I guess what you could call them, hardcore erotica novels. Other than that, pretty much anything goes. We have had some success with more standard erotic romance novels so we do feature them. Also, our first thought was to exclude horror novels, but it turned out that readers specifically asked for them and once I featured them, they were received well as well.
What is your general turnaround time from when the author pays to when the promo runs?
This really depends on what the author needs. We say that we ask for 7 days lead time, but we do schedule several times per week, which means I often end up squeezing in a book or two on a very short term notice to fit the book into the author's promotion period.
We offer two featuring options. One is free (and not guaranteed) and one is paid (and guaranteed).
The free option — We tend to receive more books than we can feature, which helps us in ensuring that our readers get to be introduced to the best books. We will pick the books we think our readers will enjoy the most, and feature them on our Website, in the daily Newsletter, on Facebook and on Twitter.
The paid option — There are two good reasons why an author may choose to pay a guaranteed feature fee.
1. Last minute feature. This is for any feature with less than a week of lead time. We will make last minute changes to our newsletter and squeeze in the additional feature for the author if they need to be promoted on a specific day.
2. Guaranteed feature. If you want to be sure that your book will be featured, the paid option guarantees a spot in the daily newsletter and on the front page of our website (unless the book doesn't meet our guidelines).
Are there any customer testimonials you'd like to share?
Yes, I am excited to share testimonials!
"My ad with Choosy Bookworm has had amazing results. My box set "Killing Times 6" jumped from a rank of 200,000 to 733 in the entire Amazon.com Kindle store! I truly value and appreciate Jay's dedication and hard work, and I look forward to working with Jay and The Choosy Bookworm soon." – Joanne Clancy, Author of Killing Times 6
"Jay, I've used numerous services, paid and unpaid, to promote my suspense novel, "A 3rd Time to Die." Your book features (happily, free of cost) at Choosy Bookworm have produced the most and quickest sales results over any others I've tried. You're a pleasure to work with and quick to respond. It's a great service. Thanks." – George A Bernstein, Author of A 3rd Time to Die
"Jay Lee! I love Choosy Bookworm and how you present indie author books. Not only do you promote our books for FREE, but you interact with the authors and readers. Choosy Bookworm is a class act." – Jackie Weger, Author of Finding Home
"I'm just coming off the most successful book promotion for Hoodoo Money I've held to date, and already I'm preparing another sale for the second book in my series. I attribute this success, in part, to the exposure my novels receive at the Choosy Bookworm where every book — be it an indie debut novel or a best seller — receives first-rate billing and quality presentation. Web site ads. Newsletter. Catalog of freebies and bargain books. Facebook posts. Twitter feeds. The Choosy Bookworm covers all the bases for both readers and authors . . . and I'm so very glad they do!" – Sharon Cupp Pennington, Author of Hoodoo Money
"I am so grateful for Choosy Bookworm. They have given me the opportunity to promote my book with them and as a result, I have seen a surge in sales. And, one of the best features about them is their customer service. When I e-mailed them with a promotion date mix up, they quickly got back to me and worked it out, squeezing me in for the date required. I look forward to working with them again." – Mae Martini, Author of Loving You
"Choosy Bookworm has been an excellent promotional site for my novels! For little or no cost to me, my books have reached a greatly expanded audience of readers, resulting in noticeably increased sales. Because Choosy Bookworm promotes only well-reviewed books, readers trust this site, as well as its emails and newsletters, to introduce them to terrific reads and talented authors who may be new to them. I so appreciate the exceptional customer service, which is always prompt and supportive. Jay Lee does a first-rate job of connecting authors and readers. Many, many thanks to Choosy Bookworm!" – Lorrie Farrelly, Author of Terms of Temptation
Where can our readers go to find out more?
Please visit our site at: www.choosybookworm.com. You can also find us on Facebook at: www.facebook.com/choosybookworm and on Twitter at: www.twitter.com/choosybookworm.
Thanks, Jay. While Indies Unlimited does not officially endorse any specific services or service providers, we are always happy to see new promotional tools and venues made available to indie authors. We encourage our readers to check out the Choosy Bookworm for themselves, or ask Jay a question here in the comments.