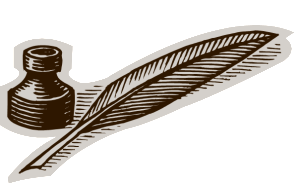 One of the hallmarks of being a pantster is that we like to be surprised – by the plot, and our own characters. We love the sense of excitement, and adventure, that comes from not knowing what's around the next bend.
Sadly, not all surprises are pleasant. One of the big drawbacks of being a free-wheeling, I-don't-know-what-happens-next type of writer is that we often write ourselves into a corner, or so far off track that the original story becomes lost. Or sometimes <<shock horror>> we just end up with …bloat.
<<A bloated carcass puffs up to many times its original size, and stinks>>
The trouble with written bloat, however, is that it doesn't always stink. In fact, it may sometimes smell of Hemingway, or at least Stephen King.
"But hang on!" you say. "How can something that smells good be bad?"
Context, my friend, context.
If I'm writing a murder mystery and suddenly start waffling on about the meaning of life, death and the universe, I've stopped the original story in its tracks. And that's bad because you can't marry the front end of a chicken to the hind end of a horse and still expect to get eggs.
In a good story, each scene should perform multiple functions. It should move the plot along, contribute to the character arc, paint a scene, set a mood, build tension, foreshadow events still to come, as well as…
-cough- etc -cough-
Any scene that doesn't add to the story as a whole is bloat, and has to go. Cut it out and put it in a folder full of other such orphans. One day you may write a story that is all about life, death and the meaning of the universe, and then it will come in very handy. For now though, keep it away from that murder mystery!
Of course, knowing when a scene is out of context is not always easy. If what I really want to write is a hybrid story that's equal parts philosophy and murder mystery, [like for example, Robert Wilson's Blindman of Seville] then perhaps it's the new scene I need to keep, and the beginning that needs to be changed. Either way, change is necessary.
Now it goes without saying that no writer likes to waste tens of thousands of words, but if you're a pantster, and you want to write the best story possible, rethinks and rewrites are inevitable. That extra effort is the price we pay for the joy of being surprised.
Is that heady rush of creativity really worth the effort though?
I can't speak for other pantsters, but I know I can't write any other way. I have tried to outline a few times in the past, but the results were always dreadful. If I wrote a decent outline, I wouldn't be able to write the story because I'd already figured it out. However if I wrote a logical, predictable outline, I'd end up bored to tears. And again, I wouldn't be able to write the story. For me, outlining turned out to be a lose-lose technique.
These days, I've learned to accept that cutting great swathes of prose is a necessary part of my writing style. If I can't come up with a darned good reason for keeping a scene, I harden my heart and bring out the digital scissors. It always hurts to see those pages wilting on the floor, but the story has to come first.
So tell me, are those scissors in your pocket, or is it just …bloat?