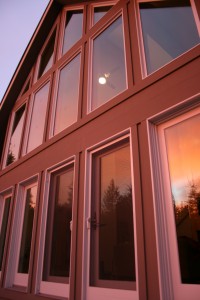 Sometimes the obvious smacks you in the face. I hate it when that happens. But sometimes, lessons are learned where you least expect them. And surely enough, determining a house-selling strategy made me realize I had to change my philosophies when it came to selling my books.
My house is unique and custom-built. It's in the wilderness, yet convenient to Spokane. It's considered "green," yet it's not rustic. It's luxurious, but it's not outrageously expensive. When it went on the market, I knew it wouldn't sell to anyone in the immediate area. It's not for them. It's perfect for city folk tired of the rat race. It's for wildlife photographers and naturalists and outdoorsmen and retiring business executives and celebrities looking for complete privacy. It's for a diverse, yet specialized, demographic.
After nearly a year on the market, there'd only been one showing. Why? Because putting a house up on the MLS (Multiple Listing Service), Zillow, and Trulia is like putting a book up on Amazon, Smashwords, and Barnes and Noble – and expecting that to be enough. Maybe, at one time, we authors thought that getting our books up on those sites would get them sold. But we know better now, don't we?
Plenty of people have been looking at the house's listing. So what did that mean? The right people weren't seeing it. The only logical conclusion (other than it's not priced as a bargain basement deal) was that my house was not getting in front of the right audience. I looked at the market segments to target. I figured certain magazines tailored to the tastes of people fitting the demographic would be a good place to start. The New York Times, Mother Earth News, Luxury Home Magazine – those are just some of the "places" where people who would be interested in my house would be. I thought about how I would do it if I was a realtor. I'd start by advertising there. I wouldn't expect each one to work, but eventually, one would.
The house has been posted on Pinterest and Facebook and a bunch of other social media sites. I was told this is effective. My rebuttal was: I have over twice the following, and I don't sell any books on Facebook. Seriously – is a Wall Street business executive sitting at his or her desk thinking, "Hmmm, I wanted to find the perfect house today – think I'll look on Facebook!" Probably not.
So then it hit me. Duh. Why am I trying to sell my books on Facebook? The people who support me are already supporting me. (THANK YOU!!!) The rest of the people (many of whom I've actually met in person!) ignore most of what I post. So why am I not taking my own advice and getting my books in front of the right audiences?
I've been trying to do a lot of promotion on free sites. I'm poor. I'm cheap. I don't want to pay. I constantly focus on trying to cover the expense of advertising with sales. If I don't think it'll work, I don't do it. I realize now that's the wrong philosophy. Lynne Cantwell tried to tell me this. I heard what she was saying, but decided I could work around it. I was wrong. She was right. Effective frequency, or the marketing rule of seven, is something I do believe in. I also believe that casting a wider net will catch you more fish. So why have I insisted on dropping my hook into a puddle? Because I'm poor. And stubborn.
That changes today.
My book sales have been horrible. I've gotten lots of fantastic reviews across twenty-five titles. You'd think I could sell something. Nope. I am a professional writer, though, and if that is my business, I need to invest in it. As a self-publishing indie, my operating costs are very low. So I am going to have to take the plunge and start investing in advertising. Time to call in the big guns.
Sometimes you have to bite the bullet and give away free books to get your other books noticed. Sometimes you have to pay a lot of money to reach the proper audiences. Authors talk about huge crowds attending genre-themed events. So genre-based advertising makes sense, doesn't it?
But…most of my books don't fit one specific genre. Night Undone is suspense, romance, women's literature, action-adventure, and drama. Triple Dog Dare is light romantic comedy – sorta chicklit, sorta humor. This is typical of me. I'm just going to have to advertise to all those groups.
Well, I'll wait until I have more books so I can get a bigger umph with my backlist sales. I've been saying that for ages. How many books will be enough? How long of a wait will suffice? I'm not going to wait anymore. No one's waiting for me. I've got to grab the bull by the horns and get my books in front of readers.
Some of the courage to do this has come from some really great reviews I've gotten recently. Yes, readers, your reviews are important in many ways! And some of this courage has come from my dear friend and all-around swell guy Martin Crosbie. He is the epitome of what a professional writer should be. He is not afraid to take risks. I want to be like him when I grow up. And I'm starting now.