There's been a lot of talk lately about reviews on Amazon and Amazon being the big, evil corporate entity. No matter what your feelings are about that, if you have books listed for sale on Amazon.com and you're not taking advantage of their Author Central platform, you're shooting yourself in the feet. No, not the foot: both feet. Repeatedly. Yes, authors really are not using this service. I see it EVERY day. (Yes, Author Central is a FREE service. If you missed our very first tutorial on setting it up, see that HERE.)
A new feature was announced by Amazon for the Kindle Paperwhite and Kindle Fire HD readers – About the Author. Here is what they have to say: About the Author gives readers access to your biography and lists all your books in a single place on Kindle. Readers can tap on any of your books and be directed to the Kindle store where they can download the book in under 60 seconds. Also, any time you update your biography or claim a new book through Author Central, About the Author will update on Kindle giving your readers access to the most recent information.
Still think you don't need to be on Author Central? Step closer to the screen so I can slap you.
My original tutorial on setting up your Author Central page can be found here. If you haven't already, read it. Do it. Then come right back here and I'll show you how to merge your books. I heard that grumble. Yes, you need to merge your books. Here's why.


What the hell is merging books? Well, even if you claim your books to Author Central, you may have multiple versions or what they refer to as editions: Kindle, paperback, hardcover, audio, etc. If you merge these, they will show up under one title heading, and the shopper will be able to see every type of edition available in one place. That benefit is huge – that way you can provide ONE link to a book and people won't have to search for their preferred format. The other awesome thing about merging your books – is let's say your eBook has one review, your paperback has three reviews, and your hardcover has two. Once you merge those editions, ALL the reviews will show for each – so instead of people seeing one review for the eBook, they'll see five. That's much better, isn't it? I knew you'd see it my way.
TO MERGE BOOKS:
Sign into Author Central: https://authorcentral.amazon.com.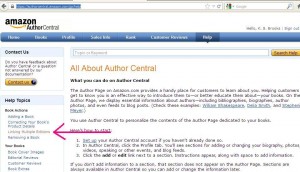 Amazon refers to it as "linking multiple editions." You'll see that in the left sidebar if you click on "help." (See the image to the left.) But we're not going to the "help" page. You can if you want to, but it's rather convoluted doing it that way. I'm going to show you a short cut.
This isn't something you can do yourself, unfortunately. Amazon customer service wants to look at the books you want to merge to make sure everything is copacetic. So, you need to contact them directly. Go to the Contact us page here. Once you're there, follow these instructions: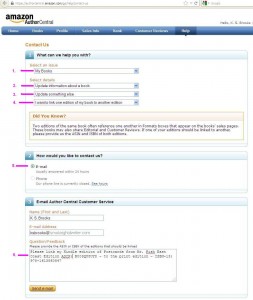 1. Under "Select an issue," select My Books.
2. Under "Select details," select Update information about a book.
3. In the field that appears, select Update something else.
4. In the next field that appears, select I want to link one edition of my book to another edition.
5. Then select how you would like to Amazon to contact you: email or phone. I show you all of these in the screen to the right. (Click on it to enlarge.)
6. Then make sure to include the ASIN number for the eBook and the ISBN number for the print book along with the book's title. Don't ever assume they should know what you're talking about.
Here's the key: make sure your titles are identical AND if there is a volume number associated, make sure those numbers match exactly. Otherwise you'll get a response from someone in a foreign nation telling you the books are not the same. Trust me on that one. The above Mr. Pish book is #3 in the Postcards Series, but #4 in the Mr. Pish Educational Series. That one threw Gangadhar N for a loop, and I was informed that the two books "don't meet the qualifications to be linked." No, for a change, I'm not being fresh. That is from the actual email I received from the Amazon.com Author Central Team.
With the short cut I show you above, it should only take a couple of minutes for you to get the version linking wheels turning. It looks so much more professional and will save potential buyers the hassle of trying to find their preferred but possibly unlinked version. It's wonderful to be organized, isn't it?