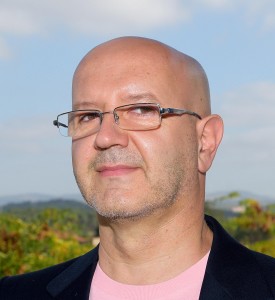 Guest Post
by Pedro Barrento
Ever since I've become a self-published author, I've heard people telling me that the secret to self-publishing success is "word of mouth". If your book is good enough, and if you can somehow start that magical chain of recommendations, the whole thing will spread like a cascade of dominoes on a Guinness World Record attempt.
I accepted the advice in good faith, and started working hard to kick-start my first book by finding an initial set of sympathetic readers who would then tell their friends about my literary masterpiece. It all seemed rather intuitive and made perfect sense to me: one person likes the book, tells a couple of friends, they like the book, mention it to several other people and so on. You don't need to be very proficient in math to see the geometric progression potential and to salivate at the promise of chart-topping sales.
As time went by, though, and I started digging into the dark arts of self-marketing and learning about the myriad details of Internet promotion, it became pretty obvious that something didn't add up – the ratios and the processes involved were totally incompatible with the "word of mouth" scenario. In fact, with time, I became convinced that so-called "word of mouth" is nothing more than a total fantasy–one of those things that seems logical and obvious, but just isn't.
If you're twitching your nose and thinking I'm wrong, don't feel bad about it – that's the reaction I always get. But please bear with me while I try to expound my arguments.
Let's start by analysing an area where word of mouth does exist: music.
You typically have 2000 kids in a high school, and most of them listen to music several hours per day. They also frequently extend their headphones to their friends and say "Hey! Listen to this. This stuff is good!" (yes, I'm trying to be moderate in the choice of words). Their friends listen for a minute or so and immediately decide if they like the music or not, and the process is repeated.
In such an environment, you can have dozens (or hundreds) of recommendations going on in one day, and their effect is immediate. It is not inconceivable to imagine a student entering his high school premises at 9 am being the only person to know a song that has just been released, and by 6 pm, thirty or forty kids have been exposed to that same song.
Now, by comparison, let's see how things happen in the literary world.
Unlike kids in high school, readers aren't in packs of 2000 in a building (or if they are they aren't aware of it) – they are thinly spread around the country, they take months (sometimes years) to pick up a book, may take many more months (or never) to recommend one and the person who's hearing the recommendation has the same ratio of taking months (or never) to pick up the recommended book and deciding if he /she likes it.
I'm no mathematician, but I'm pretty sure that if someone creates a mathematical model of these interaction ratios. the conclusion will be that a book would take several millennia to reach any bestseller list from word of mouth alone.
Even in more concentrated reading environments, like Goodreads.com (the biggest readers' site on the Net), recommendation ratios are incommensurably lower than anything you can get in music. If you don't believe me, try recommending a book to your friends on Goodreads. After one month, go and check how many of them have read the book. You'll be very lucky if anyone has. That's time enough for a song to have reached thousands of people, starting from one recommendation only.
So I stand by my belief : word of mouth in literature is a fantasy. It simply doesn't exist.
Although you may, by now, be half convinced, you're probably thinking about several examples of self-publishers who sold appreciable quantities of their books before being picked up by a publisher – how did they do it, then, if not by word of mouth?
Well, first of all, I think each case is its own case. Different events may be primarily responsible for different books' successes. Secondly, I would pay very little attention to author interviews where they suggest that it all happened by word of mouth. Sometimes they may simply not be aware of how it happened at all, but most of the times I think they have a pretty good idea but see no reason why they should explain it in detail.
Personally, I think in most cases it can be traced down to getting a lot of books into the hands of readers through free downloads and then having the good luck of being mentioned by people who liked what they read and who either have clout, have their opinions voiced in widely circulated media or are direct influencers of buyers (through Amazon's recommendation algorithm, iBooks' site recommendations, etc.).
Just as with the Medicis in the Renaissance, in the 21st century a patron goes a long way towards making an artist. A writer must create the initial wave, but the ratios involved are far too low for a self-sustained chain of events. At some crucial point, external help is required. Without it, I don't believe self-publishing success is possible. And although external help is undoubtedly related to the contents (you may call it quality if you want) of the book, it ultimately involves a good dose of that most valuable and elusive ingredient in anyone's success: luck.
My opinion, anyway.
Did you like this article? Why not tell your friends about it, let's spread the word.
No, I'm not kidding. Unlike books, it only takes a couple of minutes to read an article. So, in this case, word of mouth can work.
---
Pedro was born in Mozambique in 1961. He is the author of two books: The Prince and the Singularity – A Circular Tale and Marlene and Sofia – A Double Love Story. You can learn more about Pedro on his blog and his Amazon Author Central page.