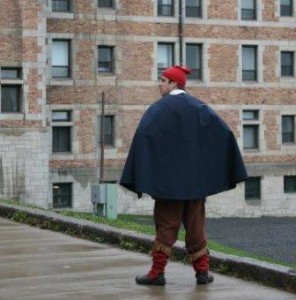 This is one of the inmates I met on my little adventure to the asylum. Everyone called him SuperDude.
Most of the time, he seemed as regular a person as you'd ever meet. Once in a while, he would put on his cape and his "helmet of invisibility," and he would stand watch like this.
I thought it quite amusing until the riot back in November. He showed us all something that day.
In 250 words or less, write a story incorporating the elements in the picture and/or the written prompt above. Do not include the prompt in your entry. The 250 word limit will be strictly enforced.
Please keep language and subject matter to a PG-13 level.
Use the comment section below to submit your entry. Entries will be accepted until Tuesday at 5:00 PM Pacific Time. No political or religious entries, please.
On Wednesday afternoon, we will open voting to the public with an online poll for the best writing entry accompanying the photo. Voting will be open until 5:00 PM Thursday.
On Friday afternoon, the winner will be recognized as we post the winning entry along with the picture as a feature. Then, at year end, the winners will be featured in an anthology like this one. Best of luck to you all in your writing!
Entries only in the comment section. Other comments will be deleted. See HERE for additional information and terms.
We apologize, the stories are not currently viewable because we are having technical issues with the commenting system. As soon as we can get them back, we will. Thank you!