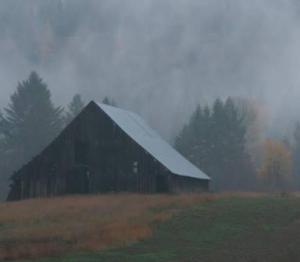 I had hunted up here before, but in the cloak of mist I had lost my bearings.
After a while, the quiet became unnerving. I quickened my pace, hoping to come across a familiar landmark or perhaps even a logging road.
I saw the looming shadow of a structure ahead and called out. No answer came, but I proceeded forward, hoping someone might be there to help me find my way. I stopped short when I saw the barn. I knew where I was now, yet it was impossible. That barn burned down thirty years ago.
In 250 words or less, write a story incorporating the elements in the picture and/or the written prompt above. Do not include the prompt in your entry. The 250 word limit will be strictly enforced.
Please keep language and subject matter to a PG-13 level.
Use the comment section below to submit your entry. Entries will be accepted until Tuesday at 5:00 PM Pacific Time. No political or religious entries, please.
On Wednesday afternoon, we will open voting to the public with an online poll for the best writing entry accompanying the photo. Voting will be open until 5:00 PM Thursday.
On Friday afternoon, the winner will be recognized as we post the winning entry along with the picture as a feature. Then, at year end, the winners will be featured in an anthology like this one. Best of luck to you all in your writing!
Entries only in the comment section. Other comments will be deleted. See HERE for additional information and terms.