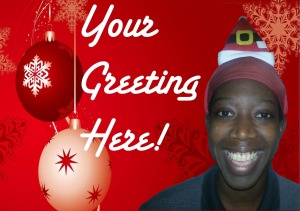 If you're the type of person who sends a spiffy holiday card and newsletter to your family and friends, you may be the kind of author who wants to do the same to your fans.
As a person, I am definitely all-in on the holiday card and catching-up newsletter. We do a picture (in a costume of some sort), a website and a brief summary of the excitement of the year. Lots of fun for family and friends who want to catch up.
So, how do you translate this to your author persona? Simple. Do the same thing, only author-related and send it to your newsletter subscribers. It's a chance for you to connect with fans in a way that they normally connect with friends and family. Therefore, we want it to be similar to what we'd send to friends and family.
First up is a picture – go for fun, but appropriate as an author. It could be you in a Santa hat. You holding a holiday ornament. You spinning a dreidel. Fun, festive and with a hint of decorum (one year, I put my children in giant gift bags for our holiday card, but that probably is a bit iffy in the author decorum department). You could also use your most recent book or an image if you don't want to be in the image. Take a picture of the book peeking out of a stocking or nestled in a wreath.
Next up, you'll want a holiday greeting of some sort. Offer the kind of greeting you feel comfortable giving. Happy Holidays covers Hanukkah, Christmas, and Kwanzaa, and is appropriate if you're sending in early December. In recent years, there has been backlash against "Happy Holidays" at times, with some people feeling it's a move to shun Christmas. Season's Greetings is more neutral. Or go with Merry Christmas if you like it and that's the sentiment you want to offer.
Next up, give a short message about your year in review. Just a quick wrap up of any highlights. If you've published any books, won any awards or completed any other projects, mention them. While readers may enjoy your work, they're busy people and may have missed your mailing about the new book or saw the mailing, but forgot to buy the book. It's a great reminder for people who've been subscribers to your list all year. For those new to the list, it's also a great chance for them to get an overview.
Also, include anything new for the month of December. If you're one of those people who likes to release a Christmas-themed book or just have a new book that happens to be publishing in December, this is a great place to mention it. Also, if you're having any holiday sales, include the dates and titles that will be on sale.
Finally, give your readers a holiday gift of some sort. It can be a coupon code for a retail site, a favorite holiday recipe you share with them, or even a short story you're posting for free. Or all of the above or something else entirely. Everyone loves free around the holidays, so why not give it to them?
For the holiday card newsletter, try to keep it short, so readers can quickly get to the end, but also get plenty of info. If you're including a free gift, be sure your email subject line indicates that (as in, "Holiday Greetings Plus a Free Gift"). On days when I open my inbox to 200 messages, I've been ready to trash unopened emails I've subscribed to, but then I see the word "free" and the cheapskate — wait, I mean frugalista — in me has to open it. In addition to sending it to current subscribers, you can also post the holiday card on your author website along with a newsletter sign-up form at the bottom. This might net you an additional sign up or two from the drop-in reader.