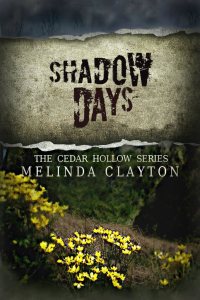 Shadow Days
by Melinda Clayton
Genre: Southern Fiction, General Fiction
59,000 words
On the anniversary of her husband's death, forty-nine-year-old Emily Holt runs away, leaving an unmade bed, an unlocked house, two college-aged sons, and an overabundance of bad memories.
Struggling to make peace with the death of a husband who'd been lost to mental illness, she vows to drive to the end of the road, which, she's surprised to find, is just outside the tiny mining town of Cedar Hollow, West Virginia.
As Emily struggles to redefine and rediscover herself, the good folks of Cedar Hollow are more than happy to help.
Shadow Days, the Southern fiction book by Melinda Clayton, is available at Amazon.com and Amazon UK.
Melinda, how did you come up with the title for your book? Does it have any special meaning?
I knew I wanted to convey the struggle of the protagonist. She spent the majority of her married life supporting a husband who'd been diagnosed with a mental illness, and in the process, lost herself. Shadow Days captured what those days felt like to her.
Who was your favorite character and why?
I love the protagonist because she's so imperfect, but my favorite character is probably Erma Puckett, the owner of Vines and Roses, the town's bed and breakfast. She's nearly 90 years old, has been in all of the Cedar Hollow books, and has a rich and interesting history.
Does your book have any underlying theme, message, or moral?
I think all of the Cedar Hollow Series has an underlying theme of hope, but this one in particular emphasizes the importance of new beginnings. It's never too late to start over again.
What would/could a reader or reviewer say about this book that shows they "get" you as an author?
I love when readers/reviewers discuss my characters as if they're actual people: flawed and just doing their best under difficult circumstances. As an author, I think they "get" me when they can identify with my characters as if they're real people with real struggles.
Give us an excerpted quote from your favorite review of this book:
"Clayton's talent is…her ability to bring a growing population of characters to life….We end up feeling like these backwoods people are life-long friends….Their lives are a journey we take together."
Where can people learn more about your writing?
http://www.melindaclayton.net