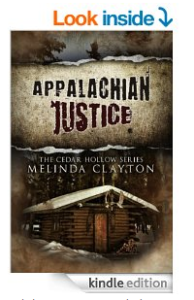 One of the best marketing tools self-published authors have is the "Look Inside" feature on Amazon. If things go well, your title, cover, and book description will catch the attention of a reader who eagerly clicks "Look Inside" to read a sample of your writing, and they see…
…nothing more than your copyright page and table of contents? Well, that's not very helpful, is it? I've honestly never known anyone to buy a book based on the "Look Inside" preview of a copyright page. This is especially problematic if you're hoping to send your book out for reviews or list it on a site that vets books for quality (ahem…IU, anyone?). From formatting to tone, to grammar usage and typos, the first pages of your story show it all. But what if they aren't displayed?
Kindle Direct Publishing sets the "Look Inside" feature at 10 percent. For a novella, short story, or children's book, that typically isn't enough to see much, if any, of the actual story. One way of dealing with this issue is to move the copyright and table of contents to the back of the book, getting it out of the way so the preview starts at the beginning of the story.
While this approach will certainly work, it can also cause problems. Some sites, such as Apple, require a working table of contents. Reviewers and vetters know this and will notice if your book doesn't appear to have one. They have no way of knowing it's been moved to the back, and may think you simply didn't include one.
A better solution?  Bump up the percentage Amazon displays in the "Look Inside." This isn't something we can do on our own, but it is something KDP will do if asked.
First, sign into your KDP account and go to your Bookshelf. Down at the very bottom of the page, in tiny gray font, is a link to contact KDP.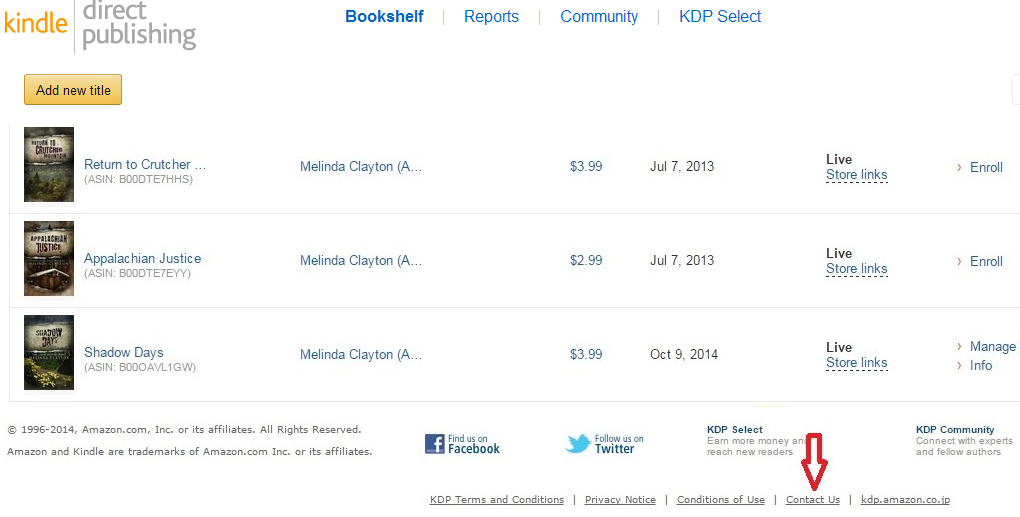 Clicking that link brings up this page: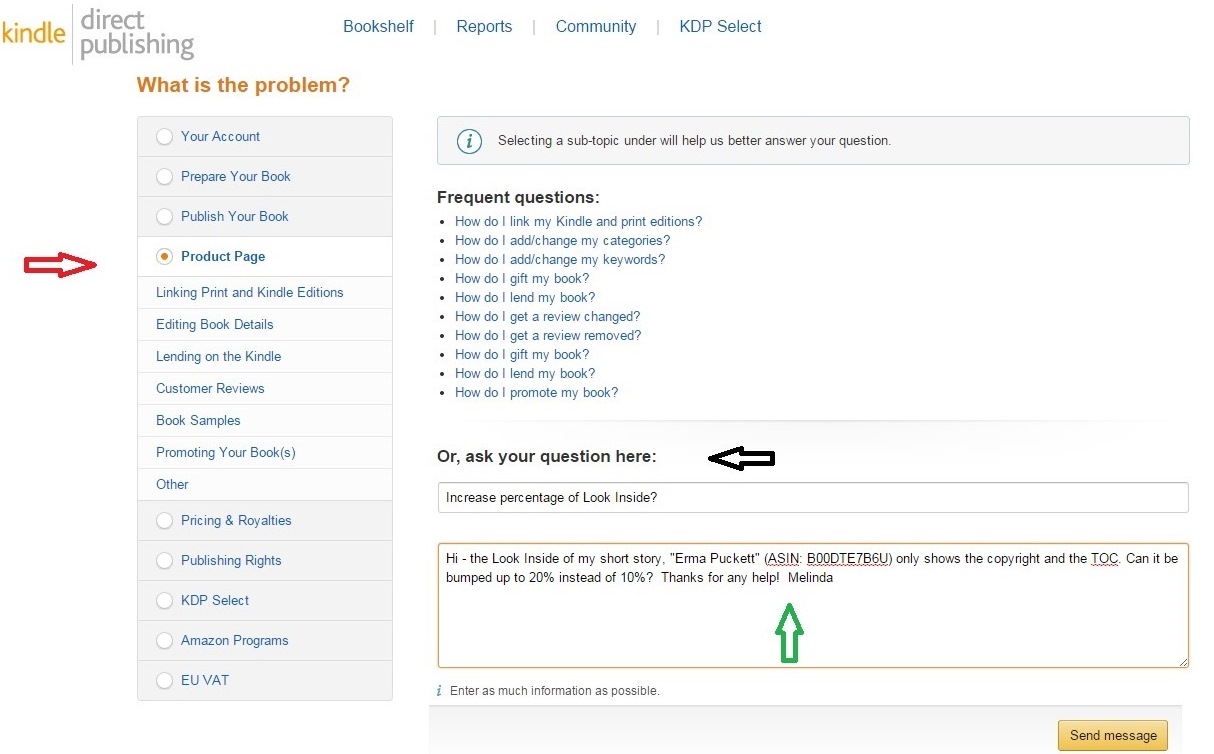 Under "What is the Problem?" click "Product Page" (red arrow). Our question isn't included in their list, so find "Or, ask your question here" (black arrow). My question is, "Increase percentage of Look Inside?"
Type your issue into the box (green arrow). Be sure to include your specific title and ASIN, explain the problem, and ask if KDP will bump the percentage up to 20 percent instead of 10.
I've done this for all of my short stories and they've always responded within 24 hours with the increase in place. I then always click to answer their "Did we solve your problem?" question, thanking them for their help because, hey, they didn't have to do it, and a little appreciation goes a long way.