Once you're got your excellent kick-ass book cover, what do you do with it beside plaster it all over your blog and Facebook page? Believe me, there are plenty of fun ways to use it for promotion, marketing, and just plain getting attention.
Magnets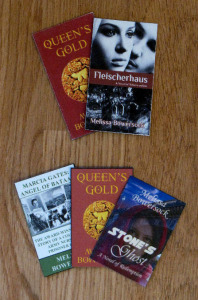 Make business card-sized magnets and give them away at your next function. You can buy sticky-backed magnets from Amazon or any office store, print your book covers on card stock and stick them on. (Or Avery makes printable pre-scored business card sized magnets.) You can also buy full-sized sheets of thin magnet "paper" (available from Avery, Staples, and other manufacturers) that will go through your printer. You can make the magnets any size you wish, then just cut them out with scissors. The strength of this magnet paper is not as strong as the business card model, but it will definitely stick to a refrigerator. In the picture at left, the larger ones are business card-sized while the smaller ones are cut from the full sheet.
If you're not into DIY, you can also have custom magnets made up by many online companies like Vistaprint. (See our Book Cover Resource page for links to all these items.)
Bookmarks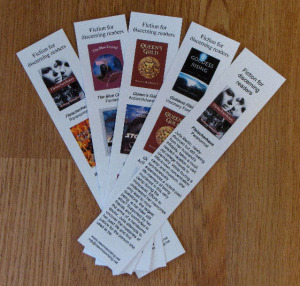 Bookmarks are always an excellent way to get your books out to the public. Include one in every book you sell and give them away at book fairs and book signings. As with the magnets, you can do it yourself or have them made custom by online companies like Zazzle or Uprinting.com. If you've got more than one book out, you can put two or three book covers on one bookmark, or you can highlight a single book by including the blurb or good reviews.
Other Items
Zazzle.com and places like Cafepress.com also offer all sorts of promotional items like mugs, buttons, bumper stickers, mouse pads, clothing, water bottles, clocks and tablet cases. You can really run wild with all of this, but of course there's a price. Most of these things would be too pricey for giveaways, but they could come in handy for contests, raffles, and book launch prizes.
Book Charms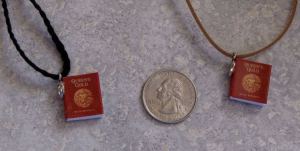 I found these little book charms and love them. They don't work for every book, however, just because of the size. If your book cover has a lot of complex images or a lot of text, they will probably not translate well to this size. But if your book has a simple design and very sharp, clear text, it will work. These from Etsy come with a bail (your choice of styles) for hanging on a chain or a thin ribbon bookmark.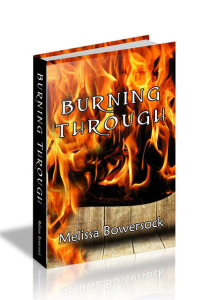 3D Images
Finally, get attention with your book cover by doing something different. Ninety-nine percent of the book covers you see online are just flat rectangles. Good-looking, informative, yes, but not exactly standing out from the crowd. Several software products will allow you to turn your ordinary flat cover into a stunning 3D book. Cover Action Pro is an add-on to PhotoShop and is pricey, but the result definitely pulls your book out of the sea of rectangles. As always, you can do it yourself if you're up for that, or contact a good cover designer or digital artist.
Book Cover Contests
If you think your book cover is really special, there are several book cover contests, but they may be less productive than authors might like. For most of the ones I found, the prizes are recognition only, no real monetary value.
The Book Designer holds a monthly e-book cover design contest. They remind entrants that this contest is primarily educational, and that by submitting your covers, you are agreeing to invite comments, commendations, and constructive criticism. The covers submitted are featured on the website along with the opinions about the designs.
The Authors DB holds a yearly book cover contest. Entries are limited to authors who are members with listings on AUTHORSdB.com, and the prizes are a certified branded badge to display alongside your book listing and promotion in their "winner's circle."
The American Institute of Graphic Arts holds a yearly book and book cover contest called 50 Books/50 Covers Competition. Again, you must be a member in order to enter your book or cover for consideration. There is an entry fee of $45 per book. Finalists will have their entries published in AIGA's Design Observer.
What other uses for your book covers have you found? What have you tried, and what worked and what didn't?
[You can find links to all the sites mentioned above on our Book Cover Resource page. Thanks for all the info, Melissa! – The Admins]