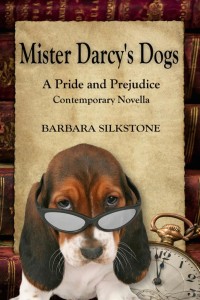 Mister Darcy's Dogs
by Barbara Silkstone
Genre: Contemporary Humor, Satire
25,500 words
Doctor Lizzie Bennet, struggling against her conservative English countryside upbringing, determines to prove her worth as a dog psychologist. Nothing will deter her from her career until she meets the uppity and oh-so mysterious Londoner, Mister Darcy. His on-again, off-again flirtatious manner and his pompous putdowns challenge Lizzie's short temper. When Mister Darcy hires her to train his lovable basset hounds for an important foxhunt, Lizzie accepts the task despite knowing next to nothing about the sport and harboring an intense fear of horses.
Will Lizzie keep her focus or succumb to her fate?
Mister Darcy's Dogs: A Pride and Prejudice Contemporary Novella is available from Amazon and Amazon UK.
Barbara, how did you come up with the title for your book? Does it have any special meaning?
This is my first foray into the wonderful world of Jane Austen fan fiction. Mister Darcy is such an appealing English gentleman and his dogs are so adorable, the title was a natural.
Who was your favorite character and why?
Doctor Lizzie Bennet is definitely my favorite. She possesses my klutzy determination and intense focus on remaining single despite her attraction to the desirable Mister Darcy.
Does your book have any underlying theme, message, or moral?
It carries through Jane Austen's theme of pride and prejudice, and how wrong we can be in our snap judgments. Lizzie has adopted her father's distrust of the wealthy. That distrust becomes her prejudice and almost ruins her romance with Mister Darcy.
What would/could a reader or reviewer say about this book that shows they "get" you as an author?
Mister Darcy's Dogs is funny, and charming and just Jane Austen-y enough to satisfy the biggest fans of both Barbara Silkstone and Miss Austen. The story is fast paced and authentically British, capturing Austen's characters without trying to mimic the plot of Pride and Prejudice.
Give us an excerpted quote from your favorite review of this book:
"Mister Darcy's Dogs is a lovely homage to Jane Austen's work and characters. This is Silkstone and Austen at their best, a great combination of two talents, written with wit, humour and charm. "
Where can people learn more about your writing?
http://barbswire-ebooksandmore.blogspot.com