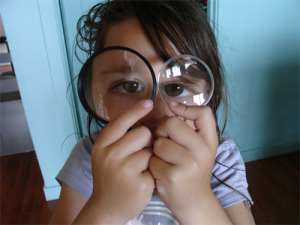 I used to assume that the books I read, especially nonfiction, especially those from big-name publishers in New York, had been fact-checked down to the type of boots the hikers were wearing, what brand of vodka the Serbian operative ordered at the bar, and the hotel where the narrator met the contact who broke the story open. But several sources indicate that most publishers do NOT routinely fact-check authors' manuscripts. And that it has NEVER been a standard practice of book publishing, the way it has been in magazines and newspapers.
You might think it's not as important to get the facts straight in fiction, because it's, well, fiction. And fiction does ask for a certain suspension of disbelief in order to entice you to care about people and situations that don't exist. Novels — those penned in non-fantasy universes, anyway — even come with handy disclaimers that events, places, people, dogs, penguins, and velociraptors are used fictitiously. Even so, major miscues can prove wicked distractions, especially for readers well versed in the topics you're writing about. For instance, I'm fond of the historic landmarks of the lovely part of New York in which I live. In a novel I read recently, one of those landmarks was the centerpiece of the story. And the author got it wrong, wrong, wrong — in so many ways that I stopped reading.
It made me wonder why this has to happen. With Google at your fingertips, it's so easy for authors to verify facts. You can check if that building you remember from twenty years ago is still standing. You can pull up a map and see if you really can get there on the subway, on foot, or only via pack mule or camel. If the info is something you don't have current, intimate knowledge with, you can always find an expert to beta read and make sure you're using the correct thingamabob to do whatever and calling it by the right name.
There are fewer excuses to be lazy. No reason to have the characters in your 1960s story drinking Diet Coke. Or to make a train station listed in the National Register of Historic Places look like a Greyhound bus depot. Not when it's easy enough to use your Google finger.
Yet some things slip by. We're human; it happens. If you're lucky, you'll catch it before you publish. If you're not — like I was with my first novel, where I had a flower blooming out of season — a reader might bring it to your attention. Luckily for me, it was sent via a private message. If it all blows up, you, your publisher, and maybe even Oprah will back away and leave you hanging, your book pulled off the shelves.
But where does the responsibility fall for an indie? Still squarely on the author's shoulders, in my opinion. As an editor, I've fact-checked many things that looked "off" in a manuscript — a location, a brand name, the title of a song or movie. Many of my editing colleagues have confirmed that they, too, fact-check — either as details poke at them or because it's part of their natures. Sometimes, particularly in academic writing and if the editor is working for a publisher, it's standard operating procedure to confirm the details with several different sources. But unless it's part of the agreement (and for most general editors, it is not), beyond what catches our eagle eyes, we usually assume that you, the author, have your facts straight.
Can you hire some incredibly detail-oriented researcher/editor to do your fact-checking? Yes. If you're writing nonfiction that's heavily fact-based and you have the scratch, it might not be a bad idea.