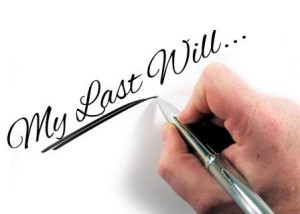 So, you've built a writing empire, or more likely, you've published a couple of books and they sell enough to pay your cable bill each month (or your coffee bill, if on a smaller scale). Now, you die; what happens? Well, that is going to depend on how you've planned for it. I talked to a couple of estate planning experts on what self-published writers need to do to ensure their intellectual property assets (that fancy legal term for your books) pass on in a way that you want. Estate planning, like a good novel, has a few twists and turns, so here's the skinny so you don't get caught off guard.
Our First Twist: You May Not Die Immediately
Chad Whitfield, an attorney with Hunter, Smith and Davis in Tennessee, says most people don't just die. More often people are incapacitated first, perhaps by a long illness or a tragic accident. If you are incapacitated, you need a durable power of attorney. That document will allow the person you appoint to access your financial accounts and make health decisions (depending on the nature of the power of attorney document) while you are incapacitated. Unless you have a durable power of attorney, your spouse (or other closest relative) won't be able to access any account they're not listed on, without going to court first.
"In most states, if you're over 18 and become incapacitated and don't have a power of attorney,
the court has to appoint a conservatorship," Whitfield said. "That can take months and cost thousands of dollars." In general, the court will appoint a spouse or family member as conservator, but it requires a hearing to make sure the appointed person will act in your best interests, and you have to pay the court fees that accompany that hearing.
So rather than waste time and money in court, Whitfield recommends getting the durable power of attorney, which lasts until you revoke it. This is good in one sense, because you do it once and move on. However, if your circumstances change — such as a divorce, or the person you name predeceases you, or you just now hate the person's guts — you need to revoke the document and create a new one. "I encourage my clients to every two or three years, pull out the documents and review them, see if they need to change anything."
No More Surprises: You're Dead
So, your illness has ended and now you're dead. What happens to your IP assets? Same thing as all your other assets. If you died without a will, you die intestate. That means, the state will decide how your assets are distributed.
"There are 50 states and each of the 50 states has its own intestacy rules," says Julian Block, an attorney and author based in Larchmont, N.Y. "What the intestacy rules do is spell out who gets your property in the event of your death without a will. In a lot of states, it's 50 percent to a surviving spouse and the remainder divided among the children. If there's no surviving spouse, then divided among the children. If no children, look to the grandparents."
Because intestacy rules are not specific to your situation, Block notes that dying without a will, "could result in some, or a lot, of your property going to a person or individuals you never intended to see your property go to, perhaps individuals you loathe."
If you don't want your state's intestacy laws to decide what happens to your IP, then you need, at a minimum, a will. If you want a say in managing how your IP is handled after you die, you probably want a trust or something more elaborate, like an LLC.
Keeping it Simple
The simplest way to deal with your IP assets is to will them to who you would like and provide a "letter of instruction," says Block. The will is the legal document that determines who your assets are transferred to after your death. The "letter of instruction" is a non-legal document that offers guidance for your heirs on closing your estate, and your wishes.
"The main goal of a letter of instruction is to let your heirs know what you have and what your preferences might be," Block said. "In context of writers, your heirs need to know, 'do you have money coming to you?'"
If you're a hybrid author and have some contracts with publishing houses, your heirs need to know which houses you're at and what you have due. For all your self-published titles, your heirs need to know where your accounts are. Block recommends creating a list of all the places you've published your books using direct accounts, such as Amazon.com, Nookpress (for Barnes & Noble), Apple, Libiro, All Romance ebooks. If you used a distributor, such as Smashwords or Draft2Digital, list which retailers you chose to distribute your book to via that distributor. (It should be accurate; if your family is going to monitor/close out accounts, they'll need to know they've gotten everything).
"The letter of final instructions needs to include where I have my bank accounts, my brokerage accounts," he notes. Given that most accounts are electronic, it's unlikely heirs will find your accounts unless you specifically list them. If your book royalties get paid to a separate bank account, you should ensure your heirs know what that bank is.
You can list the assets and accounts as an attached page, as the letter of final instruction might also include things like funeral arrangements (whether you wish to be buried, cremated, or donated to science). Your asset list should include enough information for the person to find the account, so you may want to include account numbers. If you do, keep the list in a secure location to avoid issues with improper access to your accounts while you're alive. Whitfield says many of his clients purchase a small safe and share the code with select family members.  While you want the list in a secure location, documents that a person needs to close your estate, such as an asset list, should not be kept a safe deposit box at a bank. Both Whitfield and Block noted it may take weeks to get into a bank safe deposit box after a person dies.
When planning for your IP assets after your death, also consider what you want done with your unfinished works. "You've got this magnum opus you've been working on for years," Block said. "If it's unfinished at the time of your death and you do want it completed, you could say, 'I have some candidates that can finish the job.' However, another school of thought is to say, if it's not complete at my death, I don't want it touched. Forget about it." Whatever you want done, it should be made clear in writing.
While a will controls what happens to many assets, some assets have built-in controls. For example, bank accounts and retirement accounts ask for a "pay on death" beneficiary. "People need to make sure the beneficiaries read how they want them to read," Whitfield noted. This often comes up in divorce situations, where an ex-spouse is the beneficiary of an account. If your book royalties go to a separate bank account, be sure the beneficiary is correct.
While a will is a great way for writers to determine what happens to their assets after their death, it does have some drawbacks. One is that the will disposes of the assets once and then it has no more control. If you leave your books rights to your spouse, who is also the other biological parent of your children, that's great. But, then if your spouse remarries, and dies, leaving your book rights to a new spouse, your children could end up with nothing, while a stranger enjoys the profits from your books. Writers who want more control over what happens to their IP assets after death may want to consider a trust. Unfortunately, we're running long as is, so on Friday we'll talk about the advantages of a trust or an LLC for writers, as both allow the entity (trust or LLC) to own book rights, passing on the income to a spouse or child.