I recently mentioned using Pressbooks to format books in my post about memoirs. It occurred to me that I had yet to wax lyrical about this great website. So, this month I'm going to give you a guided tour.
I found Pressbooks.com a few years ago, when I wanted to generate epub and mobi files of a book that would never see a formal distribution channel. My client just wanted to be able to place files on a website for readers to download free of charge. At the time it was a new site, still in beta, and those of us who used it chatted back and forth with the developers occasionally. I found them charming, clever and helpful; I remain fond of the site as a result.
These days it's pukka, with paid services, distribution channels and a string of glowing reviews from small publishers. Although it now goes way beyond simple ebook production, you can still access the services completely free. Who would want to though, and why?
Pressbooks works on a platform indistinguishable from WordPress, so if you use WordPress for your website or blog, the interface is completely familiar and comfortable. And it works! On the other hand, I have read Mark Coker's manual for beating the Smashwords meatgrinder from cover to cover, all that stuff about formatting your paras in Word etc…and still have occasional issues with getting documents through.
Other advantages over working in Word include:
You can view an online version of your book as you go.
The table of contents builds itself!
People can read your book online if you wish.
You can export an upload-ready pdf of the print version for CreateSpace, with fancy running heads and all, from the same files.
The table of contents really does build itself. I love that.
For my most recent project I opted to make my own CreateSpace file separately; I just used the Pressbooks service for epub, mobi and online versions. I thought I'd have more control over pagination and widows/orphans etc., but I might reconsider next time, now that I've seen all the improvements. There are beautiful themes now, here are just a few: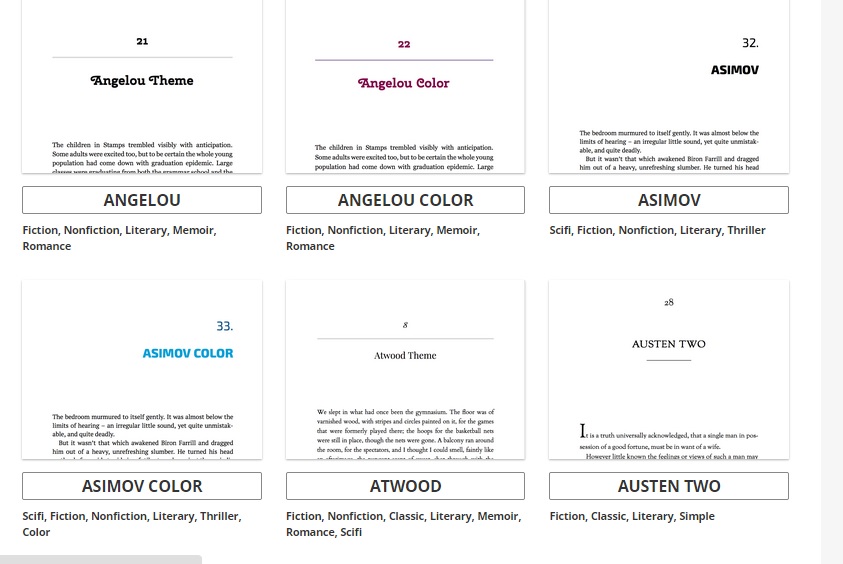 Just as with WordPress you can view demos of themes, and/or alter them later on without losing your files.
You build your book by adding sections and chapters, and then adding text to each section, just like a WordPress website.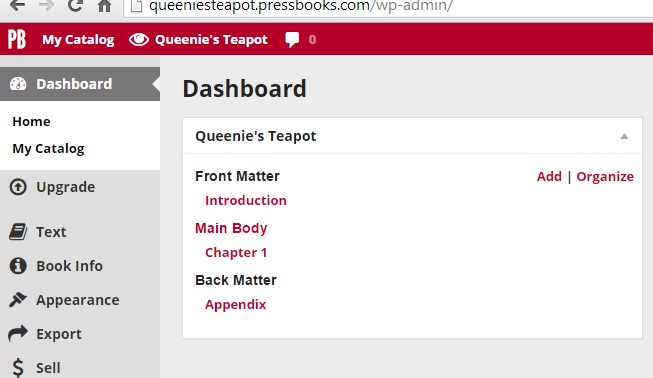 You can add whatever you want to each section and choose whether to name or number your chapters, or both. Here's the book I'm working on now: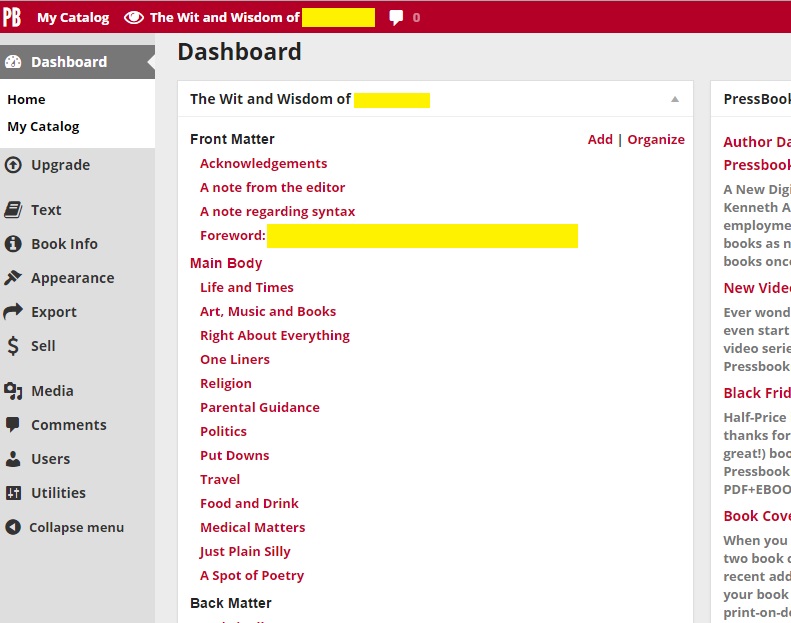 Selecting any section will take you to a familiar edit pane.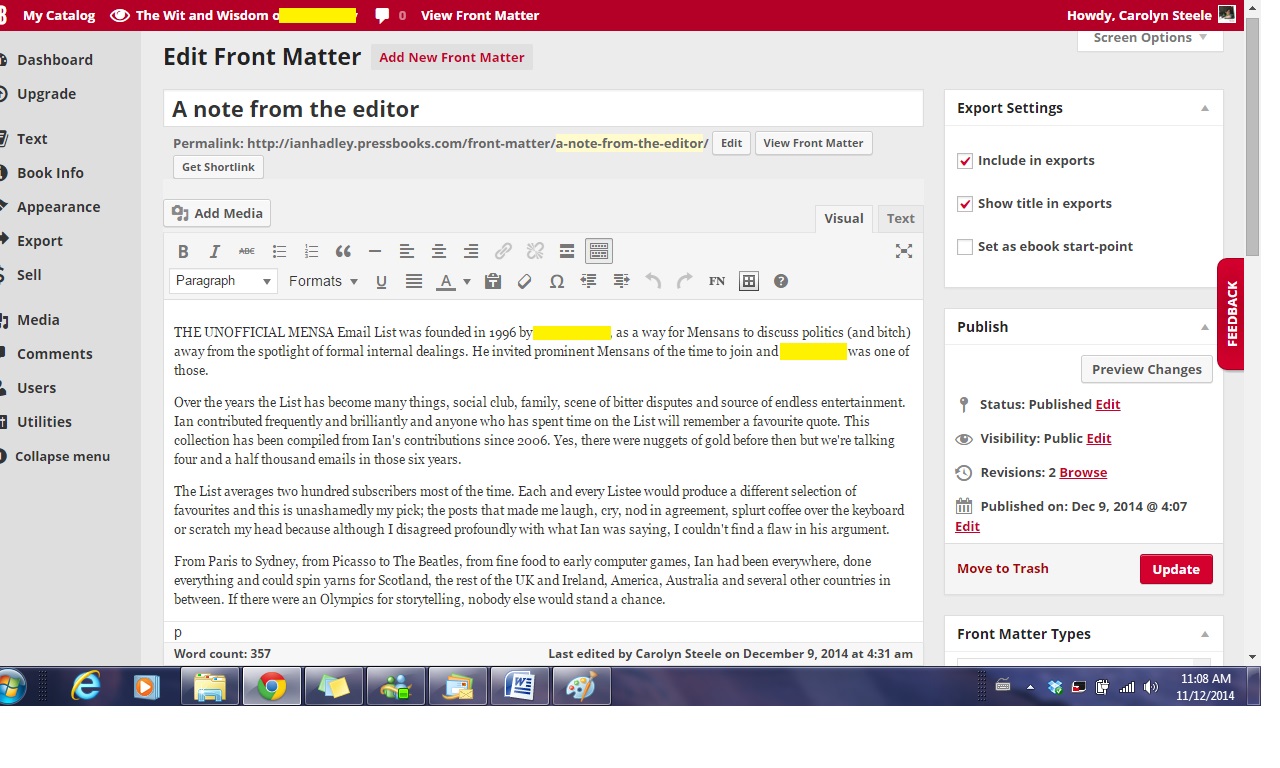 When you are happy with your book, you click 'Export' in the sidebar menu. You can select any or all of the available formats. And you've got to love a website that refers to the ones you've never heard of as 'Exotic'. There's a little reminder at the top of the page that your free version will have some Pressbooks promotion in, along, of course, with an invitation to upgrade.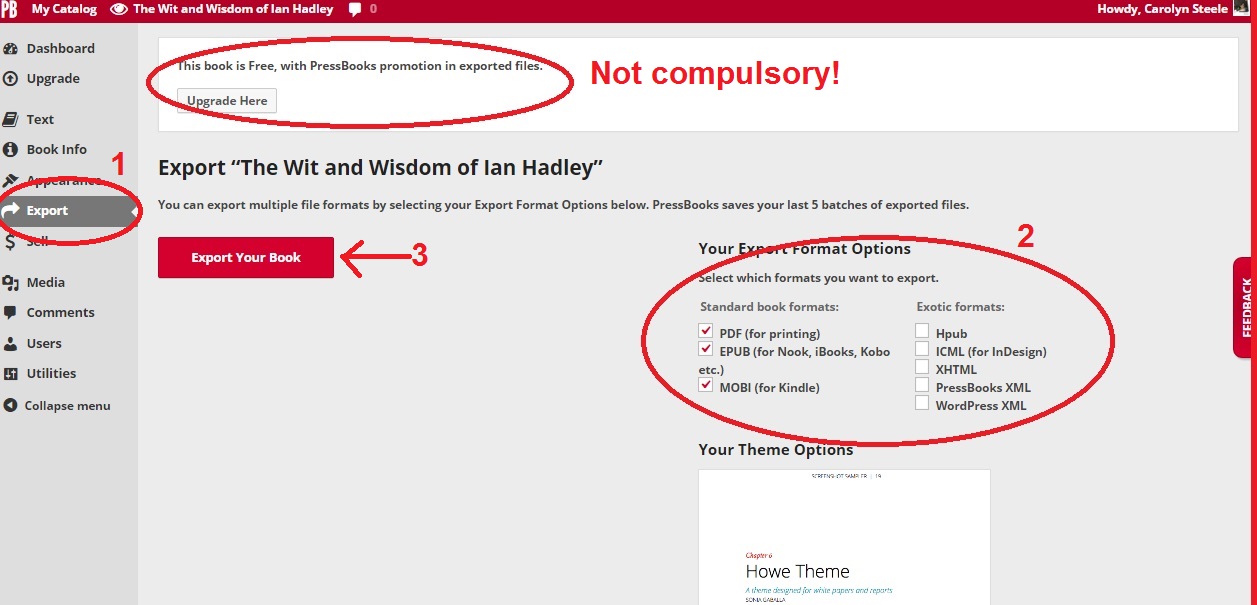 Click 'Export Your Book' and your files will appear, ready to download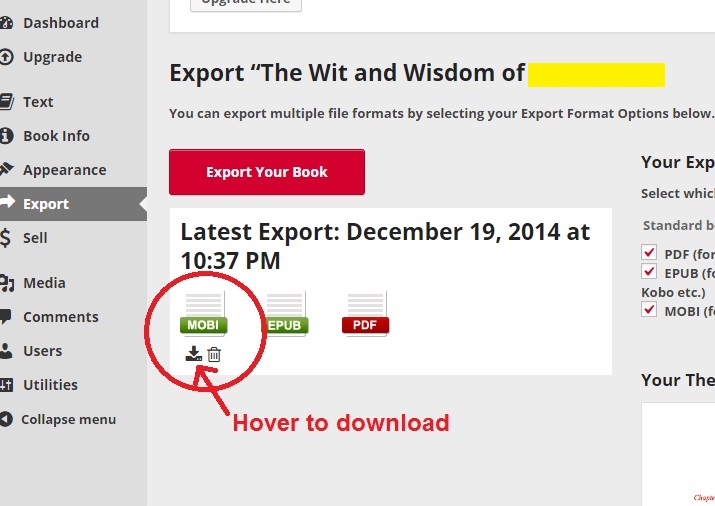 Now I don't mind the Pressbooks ad page in the free versions of my eBooks; I think it's a small price to pay for the ease of production and the superlative customer service. (I emailed a query on Christmas Day, not expecting a reply until the New Year. It was just on my mind to get off the desk while I waited for the family to rouse themselves. The peerless Hugh, who is an angel in geek form and answers most questions himself, on the forums and by email, got back to me before we'd eaten our mince pies.)
Your free epub and mobi files have a page like this between the front matter and 1st chapter: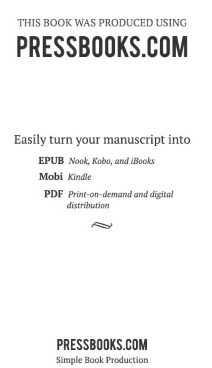 You can remove these for the princely sum of $10. I understand this will go up shortly to $19.99, which is still cheaper than paying for formatting.
There is, however, an annoying watermark in the pdf download, which costs $100 to remove, a bigger consideration. Would I shell this out for a beautiful book? Possibly next time around, I'd rather give my money to the charming Hugh than many others in this business, and it may still be cheaper that paying for formatting, depending who you use. (Our own alumnus at Quantum Formatting is slightly cheaper than this.)
If you work with WordPress routinely, I'd encourage you to go to pressbooks.com and have a nose around. Did I mention? The table of contents builds itself…