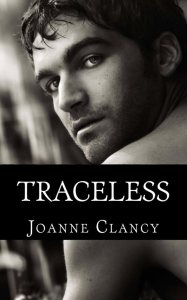 Traceless
by Joanne Clancy
Categories: mystery, thriller
Word count: 50,000
Some people should never be found…
Adam Stoltz vanishes in the middle of the night. His girlfriend, Darcey Ackerman, is the last person to see him alive. Left for dead, and with nowhere to turn, Darcey quickly learns the true meaning of love and loss.
She becomes obsessed with finding out what really happened to Adam, but is drawn into a deadly game of cat and mouse, where she's already several moves behind.
Someone is watching her, and she's about to discover that there's a fine line between love and hate…
Traceless is available on Amazon.com and Amazon UK.
Joanne, how did you come up with the title for your book? Does it have any special meaning?
I've always been fascinated by news stories about people who vanished without a trace, and I wanted to explore that theme in my writing, hence the title Traceless.
Who was your favorite character and why?
My favourite character was Gina Jones, the investigative journalist. She's a strong, independent woman, who knows her own mind and isn't afraid to pursue what she believes, even when everyone else thinks she's wrong.
Does your book have any underlying theme, message, or moral?
The underlying message in Traceless is that life and people aren't always what we assume them to be. Often, when we think we have everything all figured out, life can throw a curveball at us that we never see coming.
What would/could a reader or reviewer say about this book that shows they "get" you as an author?
Traceless is a book where the author shows her talent for getting to the heart of why people do what they do.
Give us an excerpted quote from your favorite review of this book:
"This super-fast paced thriller, which keeps you guessing right to the end."
Where can people learn more about you?
http://www.JoanneClancy.com