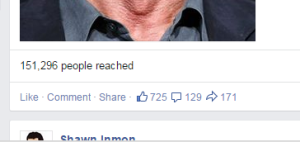 Facebook is fini, right? Since they began "monetizing" the site several years ago, charging businesses to reach our own fans, authors have been peering at the social media giant with a jaundiced eye. Why should I have to pay to reach my own fans? is a familiar refrain. No one sees my posts anymore anyway is another. In fact, a lot of authors I know have decided to just let their Facebook page lie fallow.
I believe that is a mistake. For me, my most valuable promotional tools are my mailing list and my Facebook page. I don't have a huge number of Facebook fans – just under 2,200, but they are all organic and the involvement rate is high. Would you believe me if I told you that I had a single post generate more than 150,000 impressions without paying a penny? Admittedly, that post was unusual, but I manage to get at least a few posts that are seen by 25,000+ each week. And that's with only 2,200 fans.
The question is, how? The answer is different for each person, but I'd like to share the things that have worked for me. I can break it down into four essential areas:
Continuous, applied effort. I post no less than three times per day and average about five posts each day. I know that sounds like a lot of work and a huge investment of time, but it really isn't. I spend less than half an hour per day now on what I post. My advice is to commit to posting every day for a minimum of six months, then look back and see how the interaction has grown.
Your primary focus. Beyond consistent posting, which I believe the FB algorithms reward over time, it helps to have several main themes. I post about music of the sixties and seventies, silly puns and jokes, and making fun of myself and my wife. That's what comes natural for me, and since my first two books are memoirs, my readers are prone to feel like they know me. You'll have to come up with what works for you. My advice is to be yourself and do what comes naturally. If you write serious, cultural books, my style will not work. But, book reviews, sharing thoughtful articles, etc., might very well. Seek out authors who write in your genre who are doing well on Facebook and follow them, see what material they are posting.
Don't promote too much. If your page is one big commercial, why would anyone want to come visit you every day? My goal is to make my page into a little community that people go out of their way to visit every day, whether I show up in their Newsfeed or not. They won't do that if I am shouting "Buy my book!" at them constantly. My ratio of informational and fun posts to promotional ones is at least ten to one. That way, on those occasions when you do talk about your writing, you've built up a lot of goodwill with your fans and they are much more likely to spring into action to help you.
Plan regular features. It's fun to have regular features on your page, and it takes the burden of constantly reinventing the wheel off your shoulders a bit. Here are some of the things I do, which you can adapt to your own style. I regularly share pictures of kitchens (I like to cook) and ask my readers if they love it or hate it. I often ask "Shawn's Question of the Day," which is mostly designed to start a conversation. It can be anything, like "Do you prefer to read a paperback or eBook?" or "Do you believe in ghosts?" Try that last one. It spurred some great posts on my page. I even do an occasional Book Club on my page. I announce the book that we will read a few months in advance, (last year we did Gone Girl and The Book Thief), post regular reminders leading up to it, then post a series of Book Club-type discussion questions on the night of the meeting. I am also a pop culture lover, so when something happens in that arena – Harrison Ford's plane crash, Leonard Nimoy's passing – I write a short piece and share it on my page. That's often where I get the biggest number of impressions, which inevitably leads to more page likes.
Over time, people will feel they are part of your community, and will start commenting and sharing your posts; their friends will see that and check out your page, and it will grow, slowly and organically. The trick is to not expect a quick payoff. Initially, it can feel like you are shouting down a well. I started doing these things in February of 2013, when I had about 400 people on my page. It was a little slow and discouraging at first, but now I look forward to connecting with my friends and supporters. A whole page full of people who like your work and care about you can be a great antidote to a bad review or temporarily lagging sales.