Authors who need polished landing pages for their books can get them free with the web service Booklaunch.io. A landing page is a webpage designed to provide a splashy, glamorous look at your book that funnels readers to purchase the book.
Landing pages are particularly great when you publish to several different websites through a distributor. If you're using the same file for Kobo, Apple, and Barnes & Noble, you can't put vendor-specific links to your other books in that manuscript. However, if you put links to a landing page, purchasers can purchase your book from whatever vendor you want.
Booklaunch pages don't require authors to know any HTML. The pages include purchase links, review quotes, book images, and you can even embed video.
To get started, you need to log into Booklaunch. You can either create an account, or login with Twitter or Facebook. Then, you can start setting up your page.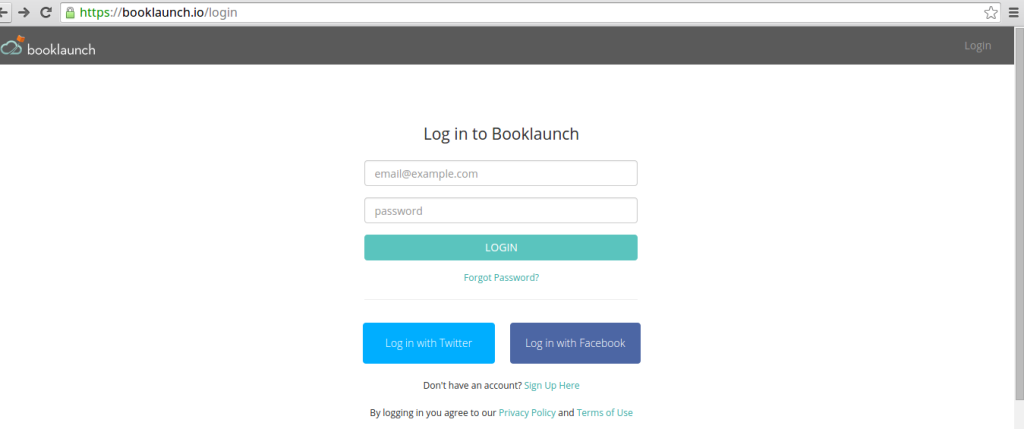 Your first time on the site, it might take you to the new page setup. If not, click on either "Build with ISBN" or "New Page" button. If you click on "New Page," you'll need to have book cover images at the ready. If you choose "Build with ISBN," which I recommend, Booklaunch will import your book data based on the ISBN or Amazon ASIN.

Once you enter your ASIN,



Book Launch will create a great page with all the barebones information about your book.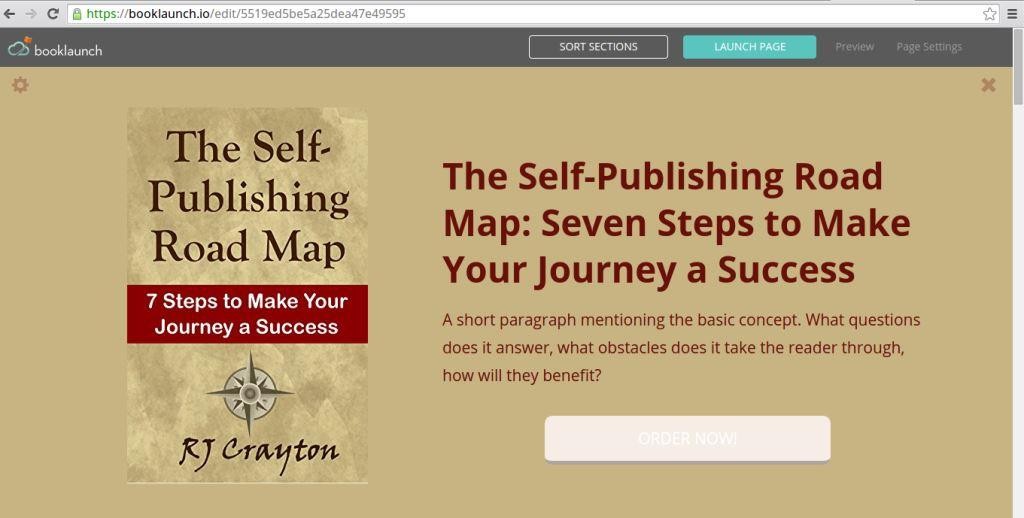 Any information that's imported, from the title of the book to the cover image to descriptive information, can be changed by clicking on it and making the changes you want. Scroll down and you will see the other "Sections" which include: Book Trailer Video; About the Book; Purchase Now; Endorsements; and Share. So, you can change the section called Endorsements to Reviews, which is more appropriate for a fiction title.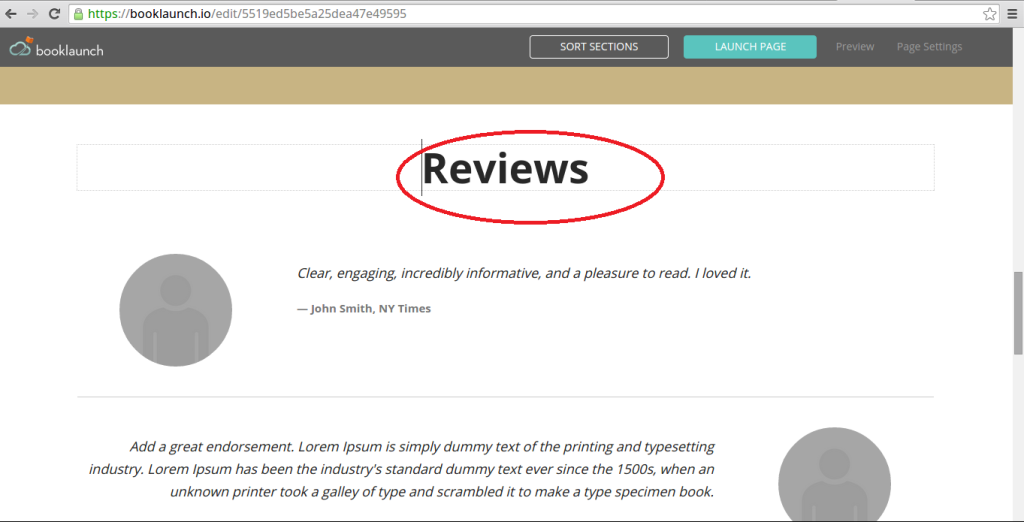 Since I mentioned distributors earlier, in the purchase section, you can include links for multiple vendors, and they'll be displayed with the vendor icons once you complete the setup page.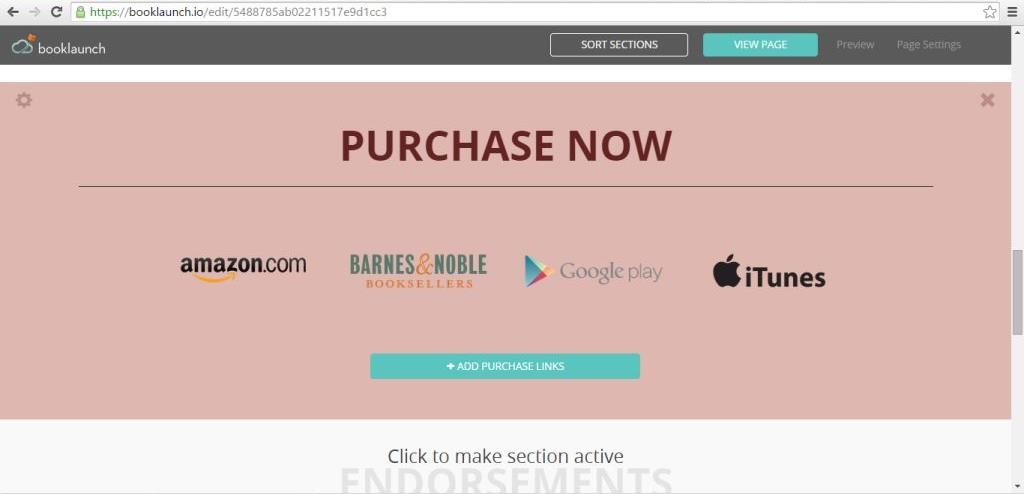 After you've added all the information you want for your page, click Launch. There's no save button on the page, but if you accidentally close the window and then open it up again, the draft page you were working on appears, but it's not live.
One nice thing about the site is that it has analytics.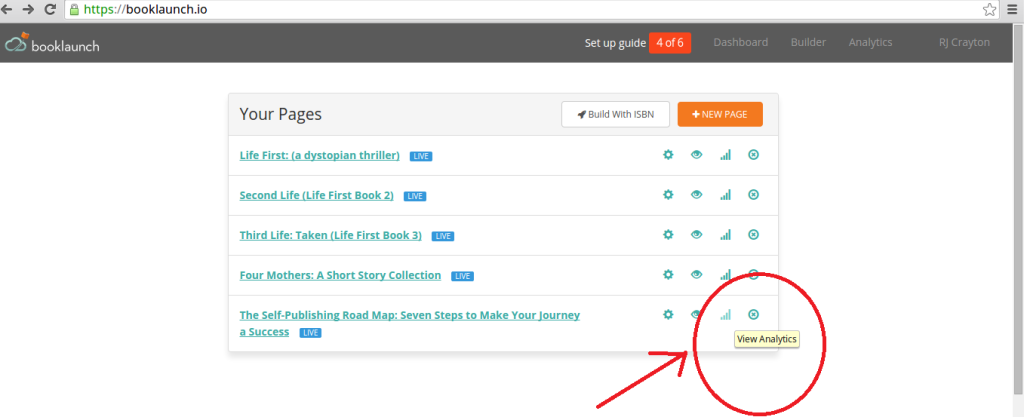 You can see how many people visited your page, on what days and whether they clicked on purchase links.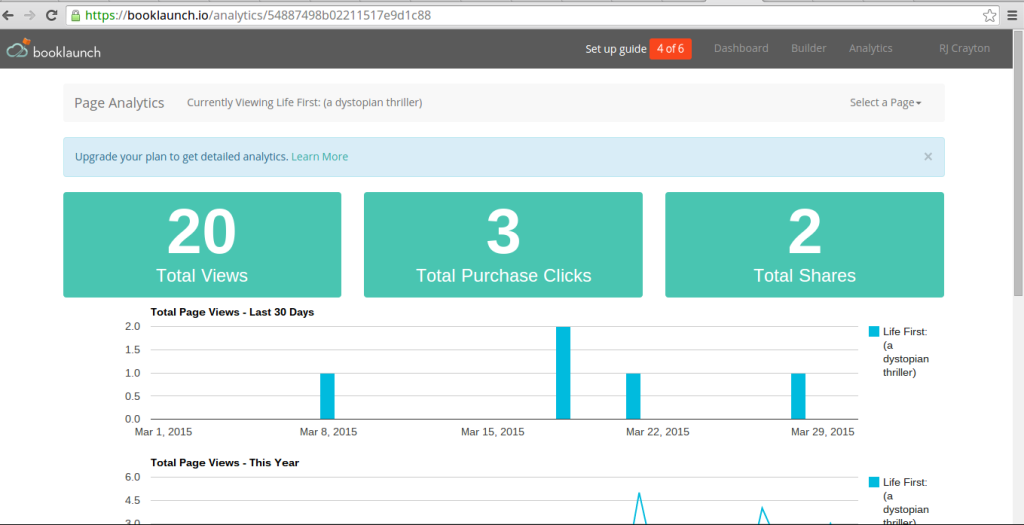 If you pay for a premium account, you can add an email signup bar to your page and collect addresses for your newsletter. If you end up adding additional vendors, you can go back and make changes to each book page. Just go to your Dashboard (the page you're taken to when you log in) and click the page you want to change.
Don't forget to set up your page's custom domain. They walk you through how to do that here. Don't worry about step 5 of 6. They make it seem like you have to share the page before you can launch it, but that's not true. After you give it a custom link, it's already live.
For a free site, booklaunch.io is a great service. However it's not perfect. One drawback I've found is there's no "undo" button. If you decide to change the background and don't like it, you can't just say undo to go back to the original background. You have to sort through a color chart to figure out the color or start over (which you can do by just going back to your dashboard and building a new page with the same ASIN or ISBN). I also couldn't find a way to remove the blank image icons in the "Endorsements" section. When I uploaded an image to the author image section, there didn't appear to be a way to resize it, either. These are small in the grand scheme of things, but they were a little frustrating when I tried to customize my page. Perhaps you need a premium membership to get more options.
Overall, I think Booklaunch's free plan is a great option and the perfect price.