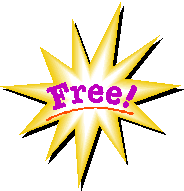 Self-publishing involves so much more than simply writing a book. Whether you contract with various experts for help or go it alone, once you make the decision to self-publish you're responsible for graphic design, accounting, marketing, formatting, and so much more. A person could go broke wearing all those hats.
A couple of months ago I wrote a post outlining several places to obtain free music and photographs under a Creative Commons license. Today, I want to introduce a few more sites that offer free resources for writers. As always, it's good practice to give proper attribution even if the site doesn't require it. See the aforementioned post on ways to do this.
First up, Media College.
Media College states, "Everything here is 100% free with no strings attached — we only ask that you respect our terms & conditions and maybe consider helping us out a bit." They offer not only free audio and video clips, but also tutorials on everything from how microphones work to effective video shots and framing. My favorite section is Sound Effects, where I downloaded a wicked shotgun blast to use in one of my book trailers.
Speaking of book trailers, have you ever seen those trailers that have some sort of constant motion in the background? For instance, maybe rain falls throughout the video, or maybe lasers flash or vines grow. Motion Backgrounds for Free offers a wide variety of motion backgrounds for videos, many of them free. In their words, "Our clips come with a 100% royalty free license allowing you to use the backgrounds in any type of presentation or video project, for worldwide distribution, forever. There are never any licensing fees." Make sure to read their Terms and Conditions for the specifics.
Another site offering free animations is LunaPic. You upload your own photo and then choose the type of animation you want. They offer a nice selection of animations, anything from snowfall to reflecting water, rapid growth to sparkles and glitter.
There are a couple of free photo editing sites online for those who don't have access to Adobe Photoshop. One of my favorites is iPiccy which offers free templates as well as basic editing functions such as cropping, rotating, touchup tools, and color adjustments.
Need help creating a Facebook cover photo for your professional page? Timeline Cover Banner (http://www.timelinecoverbanner.com/new-facebook-cover-creator.php) can help. Either upload your own photos or browse their royalty-free stock photos. Once you upload to their template you can crop, tilt, adjust, and add text and color to create the perfect banner.
Speaking of banners, if you do have book trailers YouTube also gives the option of uploading a banner to your channel. Banner Fans (http://www.bannerfans.com/banner_maker.php?bnew=1&pses=f4dd8ef) has the appropriately (and strangely) sized template for a YouTube banner. While they don't offer the option to upload photos, they do provide a variety of textured backgrounds, fonts, and colors to assist in designing your banner.
And last but not least, 3DPackage (http://www.3d-pack.com/) is a box-creating site that also works for creating 3D book covers. Upload your front cover, back cover, and spine and click Create 3D-Box. One note: The default setting for the color of the top of the pages seems to be green. If you have Microsoft Paint or a similar program you can download and change the color, or (a much easier solution), before downloading simply tilt the cover to an angle that doesn't show the top of the pages.
Hopefully someone will find some of these resources helpful, and because I'm always on the lookout for a good deal if you know of other free resources for writers I'd love to hear about them.
Make sure to check out my Free Resource Page for Authors which lists all of these sites and more, and is updated as we find neat, new tools.