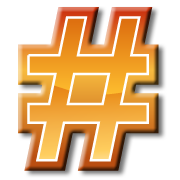 As Indie authors, all the work we do in marketing and promotion goes toward just one thing: discoverability. If readers don't know our magnum opus exists, how can they buy it?
Sadly, the flip side to that question is how can we make our work more visible?
The stock answer is always 'social media', but getting noticed on social media is just as hard as getting your book noticed on Amazon – after all, you are still one amongst millions.
All sorts of strategies abound purporting to increase the likelihood of success, but honestly…success is still largely down to luck, and we all know it.
But what if there were a better way of connecting readers to stories?
According to Michael R Underwood, the solution has been under our noses all along in the form of the humble hashtag [ # ]. In his article entitled Everything is miscellaneous: why publishing needs tagging, Underwood advocates using the hashtag to create an organic, bottom-up way of categorizing fiction.
I recommend reading the entire article, but basically Underwood is saying that the current system of genres and sub-genres was imposed from the top down by book publishers and book sellers to make life easier for themselves, not us. [By 'us' I mean both readers and Indie authors].
Unfortunately, that old way of organizing books has carried over into the digital era, and in a lot of ways, we Indies and Amazon have only made the problem of discoverability worse. Before, a book only had to compete with the other books in the bookstore. Now, that same book has to compete with thousands of others in the same category!
But it doesn't have to be like this. Imagine if you could type in the keywords [plural] to the type of fiction you wanted to read? For me it would be: science, fiction, social, aliens, future, culture. Now imagine a Google or Amazon search coming back with just those books that best match your search criteria?
Reader heaven. And Indie heaven too because those keywords would do a better job of connecting us to potential readers than all the posts and tweets in the world. Sadly, even Amazon won't let us connect to readers in that way, yet.
But don't despair! This is a snowball we can begin building on our own because hashtags already provide a way for us to categorize our work in a more useful, grassroots kind of way. Instead of spamming 'buy my book' on Twitter, perhaps we should just tag the important features, add a link and allow readers to search for us when they are ready.
And yes, I know you already use hashtags but do you make keywords the hero as in the following tweet?
#Indie #publishing #tutorials #howto @IndiesUnlimited https://indiesunlimited.com/
I'm no expert when it comes to Twitter but I think that would work. Or if that's not your style, how about putting hashtags in the title of your blog posts? Or in the blurb of your book?
You see, although we all use hashtags, our focus is almost always on 'the book' instead of on the keywords that could lead readers to the book. It's a small shift in thinking that could have huge consequences for discoverability. And the best part is that once we get this ball rolling, Amazon will want to get involved. After all, if it can track which reader wants are 'trending', it can recommend better books for those readers to buy. Win-win.