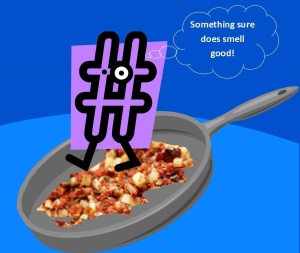 Once upon a time, I believed Twitter to be a site filled with dull people reporting about their dreary days or people bombarding me with tweets asking me to buy stuff. Yes, those exist on Twitter but it is a useful social platform and as I have gradually become more au fait with it, I have discovered a good way to use it to reach a target audience and gain interest in your tweets—use a hashtag.
What is a hashtag? It's almost anything that begins with the hashtag symbol "#". You will find silly hashtags #eatingsweets and sensible ones #newrelease. They are a way of organising information on Twitter. So, if you want to find out about new releases, you'd type #newrelease in the search box on Twitter. This will direct you to a Twitter page with all tweets using this hashtag.
To create a new hashtag, type the "#" symbol and add the word or phrase you want to use. When I was promoting Grumpy Old Menopause I used #menopause so anyone wanting information about the menopause could find my tweets and hopefully my book. Do not put any spaces in the phrase that you want to turn into a hashtag, because the hashtag begins with the "#" and ends with the first space. When you click 'Tweet', your new tweet will appear in your list of tweets, and the hashtag you created will appear in blue. Scroll over it and click on it to be redirected to the page for the hashtag. If you have really created a brand new hashtag, your tweet should be the only one on the page. Now, every time someone includes your hashtag in a tweet, it will be added to the page.
The primary purpose of a hashtag is to bring conversations on the same topic into a single thread to make it convenient for information consumers to view and compare ideas. Hashtags can therefore be extremely useful for writers.
Popular hashtags include #amwriting from people who are writing and #amediting from those who are editing. You might want to include one or two of the following when you next tweet: #askagent #author #authors #bookbuzz #books #fictionfriday #tIAG (Indie Authors Group) #novels #poem #poet #poets #poetry #pubtip (publication tips) #publishing #scifi #selfpublishing #vss (very short story) #wip #wordcount #writer #writers #writetip #writing.
It seems to me that tweets containing such hashtags are more likely to be retweeted by people who have searched for that hashtag, or who are also using that hashtag. Since I began using them, I have seen a surge in retweets and an increase in my number of followers.
A hashtag will allow your tweet to reach a larger audience than just your followers. I use #humour #chicklit when tweeting about my books. That ensures it will appeal to my target audience. Try #scifi #romance #thriller and so on for your books.
If you would like to research hashtags and see which ones are most popular or trending, there are a few sites that can give you advice. Website www.hashtags.org gives a list of trending hashtags, a graph and a search box to type in potential hashtags. After typing in a hashtag, it lists current tweets containing that hashtag. The website whatthetrend.com has current trends, a graph and a search box. It also explains why a particular hashtag is trending. And website trendsmap.com tells you what is trending where. This is particularly helpful if you're targeting a specific area.
There is a hashtag etiquette and you should not use more than two hashtags per tweet. It is confusing and messy to use more and you'll annoy fellow tweeters. Stick to hashtags that are relevant to the subject you are tweeting about.
Of course, hashtags are not confined to Twitter. You can use them on other sites such as Google+, Instagram and even Facebook. Try them out and see if you can #attractmorereaders and #makenewfriends.
If you feel confident and ready for an advanced course in hashtags, check out Hashtags 501 (The Graduate-Level Course).