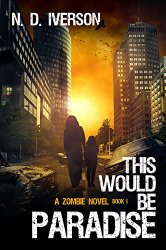 Guest Post
by N. D. Iverson
I am one of many (read: more than the entire population of Canada) self-published authors out there. We are legion, for we are many…or however that goes. In today's eMarkets, anyone with Microsoft Word can type out a manuscript and upload it for sale via eBook retailers like Amazon and Kobo. But this is no guarantee for success, no matter how amazing and wonderful your book is (according to your mother, anyways). The big publishers have the moolah and resources that we little ol' wannabe authors don't, so very, very few indie authors find independent success. I am here today to share my tale of woe (and a few triumphs) on the matter.
Self-publishing isn't, and shouldn't be, as simple as typing into a Word document and uploading to Kindle Direct Publishing. This is where self-published authors get a bad rep. Too many people are submitting unedited manuscripts and expecting readers to just ignore the grammar and formatting issues. News flash: reviewers are REVIEWERS. They have paid (or at the very least hit the 'get free Kindle book' button) and will want to tell about their experience.
Well, it shames me to admit, but I was among the misguided self-publishers who just couldn't wait for their masterpiece to be for sale. Over a year ago I tried to self-publish my debut novel This Would Be Paradise and I did – for a month. Why only a month? It was not ready for paying consumers. I had hired a random editor that I met through Kijiji (Canadian equivalent of Craigslist) and paid her a whopping $300 to edit my book. I did not ask for references as I should have, so I am to blame for wasting my money. She edited some basic issues, but missed more than she fixed (the takeaway here: ask for references or do some research. Consider it a job interview where you're the one doing the hiring and they're a candidate).
I put it up anyways (this is the part where you cringe), and while there were a couple good reviews, I managed to get one scathing review that basically claimed I didn't use proper English. It was like being a kid again, and some other child on the playground had just called you lame in front of all the other children. It was humiliating. The worst part is that, while his review was a gross exaggeration, it had drawn light to the fact that the book wasn't ready to be up yet. I took a look at his Amazon profile and based on the other products he reviewed; it became clear that he was not my target audience.
He wasn't the reason I took the book down, the issue of the lack of editing that he brought up was. Fast forward one whole year of dragging the fleshy thing I sit on, and the book is finally up for sale. It was a tough pill to swallow and I did let it get me down for quite some time.
But I got my act together and did more rounds of personal editing, had a friend majoring in English take a look at part of it, and then finally hired a professional editor. At that point, if I had to review the manuscript one more time, I would have taken to the streets screaming like a loon. This is the point you should be at when you publish. You shouldn't hate your book per se, but you should be extremely tired of it, like that bum second cousin who has been crashing on your couch for too long.
The one thing I did do right the first time was having a professional cover made. I spent a pretty dime (sadly, pennies no longer exist in Canada) on this graphic marvel and it shows. If you want to compete with the big boys, you have to dress the part. I've had so many compliments on the cover and have even had people tell me they clicked on the book purely because of the great graphics; so it works. You can always spot the cheap covers a mile away, like knock-off handbags. Eck.
To get started on your indie journey, some of the other things you will need are:
A gripping, but not too revealing description.
Author website (I recommend Weebly. It's free and user friendly) and social media platforms for your writing (don't use your personal Facebook; make a new, professional page).
People willing to review the book (the majority of my reviewers came from Wattpad).
Book promotion (like email blasts, Tweeting services, blog posts, etc.).
A dash of luck.
Oh, and have a good story and all that jazz.
Good luck to you on your journey!
---
N. D. Iverson is a young author trying to find her niche in the world. Her debut novel This Would Be Paradise has garnered over 1.9 Million reads online and is now finally available for purchase. You can learn more about her at her website and her Author Central page.