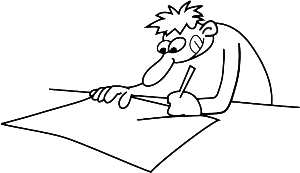 This is an ongoing series about BigAl's first experience writing a book. Join him as he flies by the seat of his pants and figures things out as he goes. For a more complete explanation about the book and this series of posts, you can read the series introduction here.
Status Update

The last status I gave was mid-October in part 4 of this series. It must be time for an update. In that post I talked about finding time for writing. Between the day job, family obligations, and the time demands of keeping two websites afloat, I was finding it too easy to not write. In one of the comments of that post, Chris James suggested setting a minimum of 250 words a day and keeping a diary. Each day you record your word count in the diary and, if you didn't make the word count you'd record why. The idea being that your reasons … er, excuses are likely to develop a pattern.
Ian Mathie suggested that this would turn writing into a chore. I think Ian is right. I also think he's wrong. A lot of this depends on what is actually keeping you from writing. I had a pretty good idea that the problem wasn't that I couldn't find the time nor that I didn't want to do it, but that I allowed too many distractions to intervene. If I didn't allow myself the easy out (oops, no time left), I'd put my 250 words or more into the book instead of burning them and a lot more words into a pointless political discussion on Facebook or pontificating in a long comment on someone's blog. Only you can decide if this is the right approach for you. I suspect for most people it isn't, but for me it was.
I took Chris's suggestion one … make that two steps further. I also added an appointment on my calendar in Microsoft Outlook for the end of my work day so it would start nagging me to put in my words. In addition, I recruited a friend who is normally up late, available on Facebook, and an excellent nag. Her job was to catch me at the computer not writing and prod me to finish my words via Facebook chat. I'd report when my words were done for the day. I think I might have gone a step too far. But it worked. I had a few days (actually two clusters of three or four days) when I was traveling or preparing to be away from home when I didn't write. I thought I had a valid excuse. Other than those, I met the goal.
So now, where do I stand? In slighty more than three months after taking Chris's advice, I've declared the first draft done with a word count of about 54,000. Thanks Chris, and thanks naggy friend.
What Comes Next?
I'm starting by taking a few weeks off, largely because I've had to hussle to get everything for both websites prepped in advance because I will be traveling. I know I'll have less tech capability than I'd want to do some things on my normal schedule, so I wanted what I could get done in advance. When I return I'll be diving into my first of probably a bazillion rounds of self-editing. In preparation I've done a couple of things.
First, I've read and re-read Cathy Speight's post from a few years ago on self-editing. Second, midway through writing the first draft it hit me that there were certain words I know I overuse. I started making a list of those and other writing tics. Being aware of them, maybe I made them less often through the remainder of the first draft. However, I didn't want to be too aware or it would slow down the writing process and, as I've seen advised many times, the point of the first draft is to get something rough committed, not to polish or overthink what you're writing. In one of my self-editing passes I'll be searching for and evaluating my usage of these favorite words. I suspect additional items will be added to that list during my first self-editing pass as well. Also on the agenda is reading all the IU posts with the self-editing tag for any help I can get with the process. Wow, one of those posts was actually written by me. How the heck did that happen? If any of you more experienced scribes have hints or other advice, I'm all (virtual) ears.