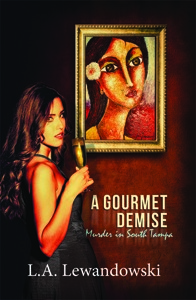 I have just completed my second Goodreads giveaway. Nearly four hundred Goodreads members entered to win a signed copy of A Gourmet Demise: Murder in South Tampa. My first Goodreads giveaway for My Gentleman Vampire: The Undead Have Style netted nearly nine hundred entrants. I know what you're thinking. I must have sold tons of books immediately following the contest. Unfortunately, this is not the case.
When a person enters your giveaway you can see all of their profile information. Books read, reviews, friends, the niche groups they belong to, et cetera. The information is transparent and yet protected by specific rules of author/reader interaction. The frustration from this  stipulation is like watching a friend eat a luscious hot fudge sundae in front of you. I am relentless when it comes to lost data. During my post-giveaway review I thought, what can I extract and utilize from this information within the rules and regulations listed under the author guidelines?
In order to offer a giveaway you must be an official Goodreads Author, and have a print version of your book. To set up your Goodreads author page please read this excellent post. You fill out a giveaway form and submit it, detailing the actual offer. For example, I offered two signed copies of my book to readers in the United States, and I let the contest run for one week.
When the time is up you are contacted by Goodreads and they give you the addresses of the people who have won the books. This part of the program is simple. You mail the books and wait for… nothing. The recipients of the books are supposed to provide a review, and often do not.
I understand what branding is, and I understand a wasted marketing opportunity. My problem with this program is that there is a ton of data that authors are not permitted to use in any way, shape, or form.
All those readers who hoped to win a copy of your fabulous book? You can't thank them for entering. You can't contact them. You can't even contact the people who won. If one of the entrants contacts you, you may respond. Otherwise, hands off. Let all those potential fans drift onto the next freebie. Yes, they can mark your book 'to be read' and it gains visibility by showing up on their profile, which is a great result. I don't want the promotional opportunity to end there, and neither should you.
I didn't know the 'no contact' rule at first. I was raised with good manners, and I am accustomed to writing thank-you notes. Without realizing I was breaking a rule, I messaged three people who seemed to have murder mysteries as an interest. A reminder popped up about adhering to author guidelines, and that is when I saw the exact rule.  I was mortified. I am not a spammer.
I spoke with a few other writers and they expressed the same emotions that I was feeling. I was embarrassed by my faux pas, and thoroughly frustrated by the lost potential to connect with people who had expressed an interest in my book. I had stopped my monthly newsletter while finishing Gourmet, and I hoped to start it up again. Several people had asked me why I was no longer sending it. Wouldn't it be great to add another fifty or one hundred mystery readers to this monthly e-mail?
The fact is Goodreads is a reader site, and although authors are welcomed and accorded privileges like having a blog on their profile page, we are not the core marketing audience. A story I heard was that a few overly aggressive authors spammed the daylights out of their connections and the entrants of their giveaway, and that is why certain rules have been instituted. As usual, a few idiots spoil it for those of us who want to market in a professional manner. You know them—the random connect request followed by the "buy my book" spam. I wish I had a button on my computer to send a low dosage shock through the Internet. Behavior modification is what is needed with these dopes.
I think Goodreads has taken its desire to protect its readers too far. I have made a few wonderful connections with book bloggers. They are thrilled to connect with authors. Perhaps it is the way we approached each other; professionally, and with mutual respect. In fact, the three people I contacted after the Gourmet giveaway were excited to hear from me and we are now connected. There was no issue with my mistake, even though now that I fully understand the rules I will not message any of my entrants.
I would like to be more active on Goodreads, but like all of you my marketing time has to be balanced with writing and the rest of my life. My suggestion to Goodreads is simple, and is one that I believe will serve both the reader and author community. My small suggestion will sell more books, and allow a professional connection between reader and author. It will assist in discoverability, allowing readers to take a chance on literature that they may have been hesitant to try. It will run the entrants of a giveaway through a marketing sieve, clearing away the bargain shoppers from the lovers of a particular genre.
Goodreads should include another standard option to a giveaway, and that is a discount coupon. An entrant would be able to check a box that confirms their interest in receiving a coupon to purchase a copy of the book at a discount should they not win the contest. The manner of delivering the coupon code could be direct communication from the reader to the author, or it could be a special box that the author fills out with the code and the dates it will run. This will not only address the author's difficulty in following up with the readers, but will perhaps force Amazon to create a system like the Smashwords coupon generator.
I would like to hear your stories with any data you have on a Goodreads giveaway. By sharing our experiences, and perhaps lobbying for a post-giveaway coupon, we can all move toward our ultimate goal: to utilize marketing data and reach the readers of our genre.