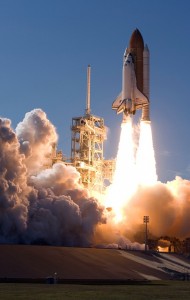 As we wade into Fall and leave the sales doldrums of summer behind, it's a good time to look at what's working and what's not working. Many sales outlets that authors have used in the past have become either less effective or totally ineffective. But, if you have a new book on the horizon there is good news. By executing a successful launch, you can gain enough momentum to earn consistent sales or have a strong enough initial surge that you can comfortably move on to writing the next book.
I polled a couple of authors recently who employed different tactics when launching their books. Some of their strategies were very interesting. Here are a few of their suggestions:
Tiana Warner's Ice Crypt is Book Two of a series. Her plan was to promote Book One like crazy, and put a call to action at the end of Book One where readers can immediately buy the sequel. Tiana worked her launch hard and she was prepared.
Price Discount
She discounted Book One to 99c for two weeks surrounding her Book Two release. And she put a note at the top of the product page description to say this book was discounted to 99c until [date].
Blog Tour, Giveaway, and Social Media
During her launch week she promoted Book One's 99c deal, did a blog tour, giveaways, and a bunch of social media interaction.
These steps, and others, resulted in Book Two becoming a Hot New Release during the week leading up to its launch, and Book One blowing up the Amazon rankings during its 99c promo (reaching as high as #192 overall).
Here's the really interesting part: as Book Two began receiving positive reviews, a few readers shared their reviews on Tumblr. One of those posts got 5,500 reblogs. Tiana thinks it was a combination of having written a book that appealed to a specific group (Ice Crypt is a LGBT YA romance) and getting lucky. I don't think it was luck. If she hadn't done the groundwork and posted to her social networks then 5,500 reblogs (I love saying that) would never have happened. Hard work and broadening her focus helped her earn an exceptionally strong launch.
Aurora Gregory and David Pitilik's book Get Picked: Tips, Tricks and Tools for Creating Irresistible Speaker Proposals was released in June. They did four things to hit the ground running. Again, some of the results could be construed as luck, but I think it was more than that. They had a plan and worked hard to find ways to connect with readers.
Celebrity Endorsement
Comedic actor Rainn Wilson learned about their book through an email exchange with David that was on a completely unrelated topic. Rainn noticed the book mention in David's email signature, asked about the subject of the book and commented "Get Picked? I thought the book was about noses…" He let them use his quip as an endorsement and then agreed to tweet about the book on launch day, reaching his 4.3 million followers. The author's launch team retweeted it nearly 50 times on launch day and across launch week.
Key Endorsements
The authors were able to secure an endorsement from Peter Shankman, a well-respected marketing/PR guru, entrepreneur and corporate key note speaker. The authors had no connection to Peter prior to writing the book other than following his social media feeds. They asked him to read and consider endorsing the book and to the surprise of the two first-time authors, he accepted.
Pre-order Bonus
Aurora and David created a five-video mini course based on the book and gave it to anyone who pre-ordered/bought on launch day. It was a great success with lots of receipts coming in from readers wanting to claim their video course. And they also now have a video product that is an extension of the book that they can sell, giving them another revenue stream.
Facebook Group Launch Team
They assembled a 200+member launch team in a closed FB group, cultivated from other FB groups they were a part of, clients, colleagues, etc. They asked those with blogs or newsletters to write reviews to run on launch day or during launch week, and they asked the group to share the reviews across their social media feeds. They also wrote "swipe" copy of tweets and FB posts and made them available to the team so they could schedule posts on launch day and during launch week.
Being engaged online, supporting others and giving help and information to others before, during and after their launch helped Aurora and David. They built their team by giving information before the book was published and they interacted with their endorsers by being faithful followers and participating in their forums. And due to their hard, focused work, things fell into place for them.
It's extremely important to be prepared and not launch too early. Often we're excited and can't wait to get our product in front of readers and we publish before we have everything in place. I've watched several authors recently have very strong launches that firmly established their presence only to see their books' sales fall into mediocrity. And, some have failed to lift it back to anywhere near the levels they experienced during their launch. So, again, when you debut your book you have to be ready with tried and proven ideas or have a concept that is inventive enough that it might just work. Then, we write another book.