Back in August, I started hearing authors talk about a site called InstaFreebie, where you could give away a free copy of your book in exchange for recipients signing up for your mailing list. Both Jim Devitt and Shawn Inmon have discussed the importance of mailing lists. Authors on different online groups said they'd scored upwards of a thousand names added to their lists using InstaFreebie.
Obviously, this sounded very cool to me. I thought I'd give it a try. What do you need to participate in InstaFreebie? Simple. A book you're willing to give away for FREE. The book cannot be in KDP Select because it violates Amazon's terms of service. (I will note, some authors give away a KDP book sampler — the 10 percent you're allowed to post elsewhere — to drive sales to the actual book on the Amazon store. I don't know how successful this is.)
Once you've picked a book you want to give away, you need three things: (1) the cover file, (2) the epub content file, and (3) a short book description.
With these things in hand, you can head to InstaFreebie and create an account. There are three types of InstaFreebie accounts. The free account (Basic) allows you to give away books, but it does not provide you with any email addresses. You can give your book away free without InstaFreebie, so I'm not sure what the advantage is to this type of account. However, there must be some advantage, because they offer it. The second account type is the one I suggest signing up for: the PLUS account. This costs $20 per month. However, first month comes as a COMPLETELY FREE trial. They don't ask you for any payment information until after you complete the month. So you essentially get to see if InstaFreebie works for you without any upfront costs. The third account type they offer is called PRO, and that's $50 per month and allows you to do some things like customize the page that viewers use to access your book.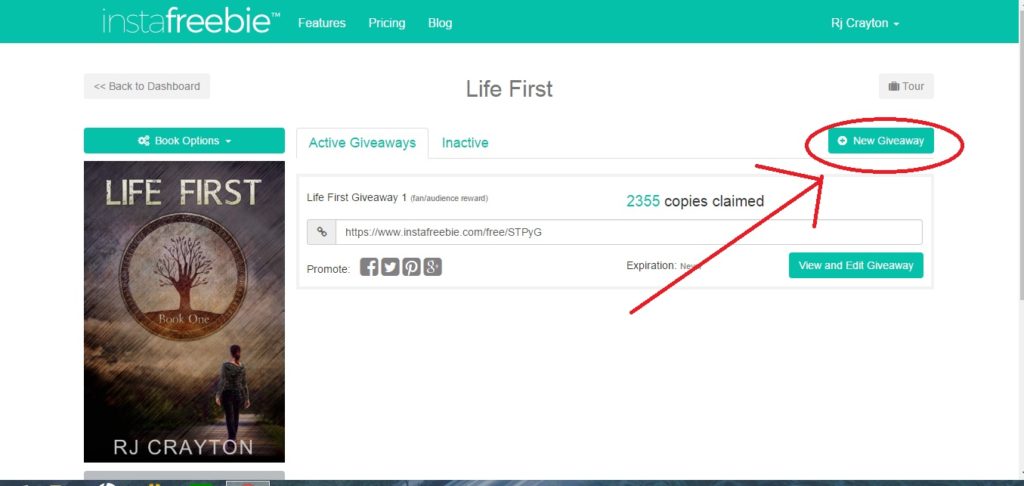 I would recommend signing up for the PLUS plan, and not inputting any payment information. Once you join Instafreebie, follow their instructions to add your book (cover, epub file, and description). After you add your book, click the "New Giveaway" button. This next part is the CRUCIAL STEP. You have two giveaway options: Quick Giveaway and Advanced Giveaway. DO NOT PICK QUICK GIVEAWAY. If you do this, your giveaway is automatically set up so email address collection is optional. You want to require an email address to receive the book, so skip the Quick Giveaway.
Pick Advanced Giveaway. When you select this method, you will have to fill out three screens before your giveaway is active. The first screen asks for giveaway details. You can limit the number of giveaways or set specific giveaway dates. If you leave those sections blank, your giveaways will be ongoing. You can also choose whether you want your giveaway to be public or private. If you are using InstaFreebie to provide advanced review copies (ARCs), or otherwise reserve the free book for certain people, then you would not make it public. If you're using InstaFreebie to grow your subscriber list, make it public so anyone can find it.
The next screen is the one you want to pay attention to. This is where you choose if the Mailing List opt-in is required or optional. If you selected a public giveaway, you should definitely make Mailing list opt-in required. If you're using it to distribute ARCs, I would still make the opt-in required. That way, even if one of your ARC reviewers improperly shares the link, you've still got the email address of all the people who downloaded the book.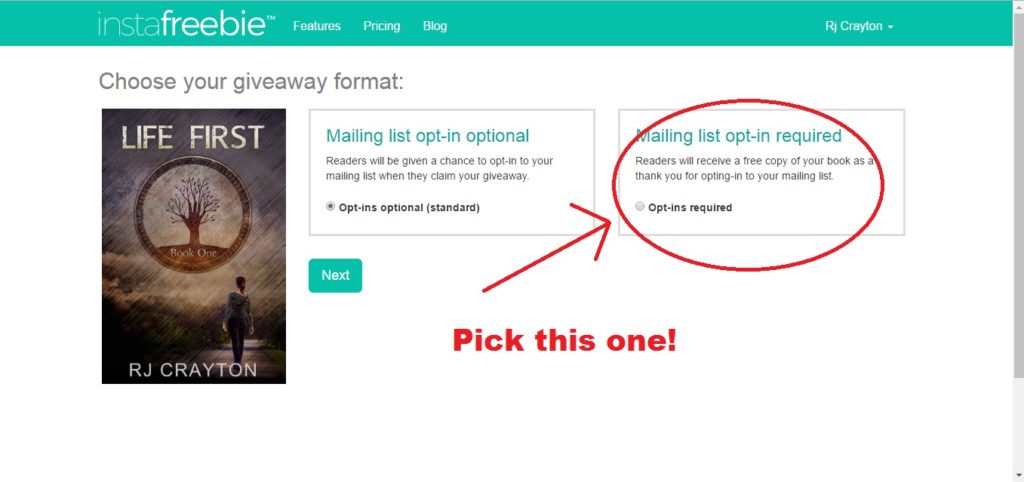 The final screen prior to your giveaway going live is Choose Giveaway Password. You can password protect your giveaway, if you're concerned about the link being shared with people you don't want it shared with. I'd only use the password protection if you're using InstaFreebie for ARCs, not if you're trying to grow your mailing list.
After that, your giveaway is live. You can say, "It's Alive! It's Alive!" all Dr. Frankenstein style if you want. I don't judge.
Your obvious question is, "How much can I expect my list to grow once I'm on InstaFreebie?"
The answer is, it depends. When I first joined InstaFreebie, I tweeted about it and mentioned it on Pinterest, and was getting 4 to 5 subscribers per day. I'm not sure how many subscribers you normally get to your list, but for me getting 120-150 new subscribers per month is in the territory of awesome and worth $20 a month. However, I did better than that, with a little help. I mentioned that I'd heard a lot of chatter about InstaFreebie. Well a few days after joining InstaFreebie, I ran into the opportunity to join an InstaFreebie group promotion. I paid $50 for a Rebecca Hamilton promo, and I got 1,100 subscribers from being in it. I was later featured on InstaFreebie, and got around 800 additional subscribers. I'm scheduled to do a couple of additional cross promotions with other InstaFreebie authors and expect that to improve my numbers. Cross promotion helps improve visibility and get subscribers.
Where do you find cross promotion opportunities? Check out this Facebook group called #FreebieFriday on #InstaFreebie Promos. InstaFreebie also picks authors to feature on their blog page, and that's entirely at their discretion, but being featured there will improve your numbers as well.
InstaFreebie has MailChimp Integration, so if you use MailChimp as your email service, InstaFreebie will automatically add the names to your list. If you use another service you can see a list of your subscribers using the "View Subscriber" menu option. Once there, you can download the CSV file with the names and addresses, and upload it directly to your mail service company. If you have a MailChimp free account (under 2,000 subscribers), be mindful of the fact that going over 2,000 subscribers will put you in the fee-based plan category. If you start with MailChimp integration, you can turn it off at any time, if you feel like the numbers are going to push you into paying more. You won't lose any data. InstaFreebie keeps track of all your subscribers through the service.
Sounds interesting, right? But you're wondering how good are the InstaFreebie subscribers? I mean, if they just wanted the free book, they probably just unsubscribe, right? Well, I'll tell you the answer to that — at least in my experience — in part two of this article.