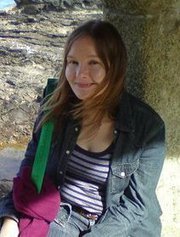 Another one bites the bean. Friend and author Vickie Johnstone just signed with Inknbeans Press.  This follows closely on the heels of Vickie sharing a sneak peek of her latest title, Kiwi and the Living Nightmare here on Indies Unlimited. Coincidence? You decide!
I caught up with Vickie while she was out at a local marina, shopping for yachts (as far as you know).  She said, "I'm really excited to be joining the Beans. Have you seen their website? There is a menu of different book flavours, like the board in a coffee shop, and they care about their authors. I'm hoping my books blend right in!! I was so happy when my contract turned up in the post. I had been looking out for the letter for days and then there it was! I was like yay, yay, yay! I've been grinning like the Cheshire Cat. It's really exciting. I was feeling a bit lost on what to do next about my books. I love writing, but find everything else a bit tough. Groups like Book Junkies and the Indie Author Group are amazing for boosting confidence, helping, tips, support, meeting people who are obsessed with the same thing (!) and general laughter! I think all writers need that. Now, I'm just really happy that Jo likes my books and Inknbeans are happy to take them on. Kiwi is purring."
We wish Vickie continued success, and look forward to hearing more from her as her work with Inknbeans progresses.